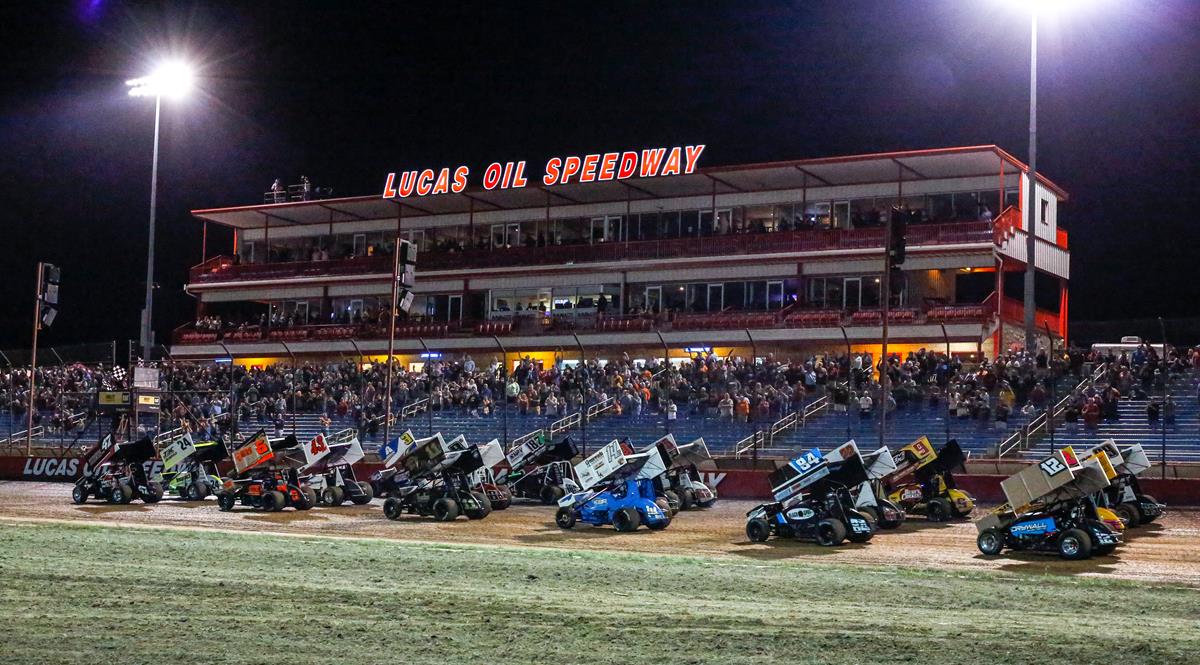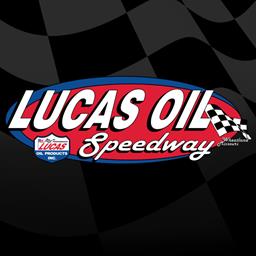 9/6/2023
Lucas Oil Speedway
---
Sprint-car crown jewel Hockett-McMillin Memorial up next after Lucas Oil Speedway takes this weekend off
WHEATLAND, MO. (Sept. 6, 2023) - Following a busy stretch of action, racing at Lucas Oil Speedway will take this weekend off before one of the season's biggest sprint-car events makes it annual visit to Wheatland.
The 13th annual Jesse Hockett-Daniel McMillin Memorial, featuring the Lucas Oil ASCS Sprint Car division and the POWRi WAR Sprints, is set for three big nights at the speedway, Sept. 14-16.
The pre-entry list closed at 94 for the ASCS winged sprints and officials have decided to split the field the first two nights, with $3,000-to-win features culminating those programs. Drivers will earn points each time they hit the track Thursday and Friday nights to help determine their starting position for the final night.
This year's list of entrants is comprised of drivers from 17 states (Arkansas, Arizona, Colorado, Iowa, Illinois, Kansas, Minnesota, Missouri, Mississippi, Nebraksa, North Carolina, New Mexico, Ohio, Oklahoma, Ohio, South Dakota, Tennessee and Texas).
Drivers can still pre-register by contacting Terry Mattox via email to terry@ascsracing.com. Drivers entering now will be placed on a qualifying night.
Thursday Night Qualifiers:
1JR Steven Russell
1K Kelby Watt
1P Curtis Evans
1T Joshua Tyre
2 Chase Porter
3 Howard Moore
4W Jamie Ball
6 Christopher Townsend
7B Ben Brown
7C Chris Morgan
7M Chance Morton
8 Alex Sewell
8M Kade Morton
9C Chase Randall
9$ Kyle Clark
9JR Derek Hagar
10 Landon Britt
10C Jeremy Campbell
11 Roger Crockett
11M Michael Tyre
12X Garet Williamson
13 Elijah Gile
14M Randy Martin
16 Hannah Merritt
22S Slater Helt
23 Lance Moss
31 Casey Wills
41 Mackenzie Borchers
44 Ronny Howard
44C Chris Martin
45X Kyler Johnson
51B Joe B. Miller
52 Blake Hahn
55 Brandon Anderson
57 Billy Butler
71 Channin Tankersley
73 Samuel Wagner
75 Tyler Blank
86 Timothy Smith
88 Austin McCarl
91 Michael Day
91K Austin O'Neal
91T Tyler Thomas
97 Kevin Cummings
98P Miles Paulus
99D Tucker Daly
Friday Night Qualifiers:
1 Sean McClelland
1H Hank Davis
1X Jake Bubak
2C Wayne Johnson
2J Zach Blurton
2X Tony Rustad
3Z Zach Davis
4C Chase Richards
4M Cameron Martin
4X Brad Bowden
5 Ernie Morriss
9C Tony Crank
10K Jordan Knight
10K1 Dewayne White
12M Greg Merritt
12 Jeffrey Newell
13C Chase Howard
14 Jordon Mallett
14E Kyle Bellm
14T Travis Oldfield
15D Andrew Deal
16S Steven Howell
18 Ryan Roberts
18X Nathan Ryun
19 Ayrton Gennetten
20 Kelsey Ivy
21 Kameron Key
22K Kaleb Johnson
22M Rees Moran
27 Carson McCarl
32 Riley Valentine
32D Daryn Langford
33 Alan Zoutte
36 Jason Martin
37 Ayden Gatewood
41H Colton Hardy
47 Dale Howard
52D Skyler Daly
71B Brady Baker
74 Tucker Boulton
77 Jack Wagner
83 Kurt Mueller
87J Jace Park
96S Brandon Sampson
95 Matt Covington
97M Scotty Milan
187 Landon Crawley
938 Bradley Fezard
Event points are awarded each time a driver takes a competitive green flag. These points are used to set the field for Saturday and are not used to set lineups during a preliminary night. A driver may not switch nights once they pull onto the track to qualify.
Qualifying and heat race points are awarded: 30, 27, 24, 21, 18, 15, 12, 9, 6, 3
B-Feature Points, starting with the first non-qualifier, are awarded: 87, 86, 85, 84, 83, 82, 81, etc.
A-Feature points are awarded: 150, 142, 135, 130, 125, 122, 119, 116, 113, 110, 108, 106, 104, 102, 100, 98, 96, 94, 92, 90, 89, 88
Following the completion of Friday's program, event points will be totaled with the Top eight locked in, straight up, into Saturday's A-Feature. All other drivers will be lined up into four Last Chance Qualifiers on Saturday. Any ties in event points will be broken by the driver with the faster qualifying time.
ASCS purse structure for Thursday and Friday:
A-Feature: 1. $3,000; 2. $1,500; 3. $1,100; 4. $1,000; 5. $800 6. $700; 7. $600; 8. $500; 9. $475; 10. $450; 11. $425; 12. $400 13. $400; 14. $400; 15. $400; 16. $400; 17. $400; 18. $400; 19. $400; 20. $400; 21. $400; 22. $400; Any non-transferring driver will be paid $100.
ASCS purse structure for Saturday:
A-Feature: 1. $10,000; 2. $5,000; 3. $2,500; 4. $1,500; 5. $1,250; 6. $1,150; 7. $1,100; 8. $1,000; 9. $900; 10. $800; 11. $700; 12. $600; 13. $550; 14. $525; 15. $500; 16. $475; 17. $450; 18. $425; 19. $400; 20. $400; 21. $400; 22. $400; Any non-transferring driver will be paid $100.
The Hockett-McMillin Memorial recognizes the legacy of Jesse Hockett, from Warsaw, Mo., who was a star in both the winged and non-wing sprint divisions when he lost his life in a shop accident in 2010. His cousin and crew chief, Daniel McMillin, was killed in an automobile accident in 2006.
Wayne Johnson won last year's ASCS Winged Sprint portion of the event while Chase Randall captured the POWRi WAR Sprint feature.
Thursday, Sept. 14 admission
Advance Discount Tickets online only (16 and up) - $22
Adults (16 and up) - $25
Seniors (62 and up)/Military - $22
Youth (6 to 15) - $10
Kids (5 and under) - FREE
Family Pass - $60
Pit Pass - $45
3-Day Pit Pass - $135
Friday, Sept. 15 admission
Advance Discount Tickets online only (16 and up) - $22
Adults (16 and up) - $25
Seniors (62 and up)/Military - $22
Youth (6 to 15) - $10
Kids (5 and under) - FREE
Family Pass - $60
Pit Pass - $45
Saturday, Sept. 16 admission
Advance Discount Tickets online only (16 and up) - $32
Adults (16 and up) - $35
Seniors (62 and up)/Military - $32
Youth (6 to 15) - $10
Kids (5 and under) - FREE
Family Pass - $80
Pit Pass - $45
For information on any event at Lucas Oil Speedway in 2023 contact admissions director Nichole McMillan at (417) 282-5984 or email her at nichole@lucasoilspeedway.com for more information.
CONTACT:
Danny Lorton
Lucas Oil Speedway General Manager
Office: (417) 282-5984
DLorton@lucasoilspeedway.com
Complete Lucas Oil Speedway event information, archived race recaps, previews and driver features, along with ticket information and schedules can be found by visiting LucasOilSpeedway.com.
Lucas Oil Speedway is located at Highways 83 and 54 in Wheatland, Missouri. A campground with shower and bathroom facilities is also available. With its entrance located just outside the pit gate this sprawling scenic camping facility will continue to enhance the racing experience at the Diamond of Dirt Tracks.
Click LucasOilSpeedway.com for more information and detailed directions to the speedway or call the Track Hotline at (417) 282-5984. The Lucas Oil Speedway EZ Texting number is (417) 804-4141.
In addition, fans can get social with Lucas Oil Speedway by following @LucasSpeedway on Twitter, clicking "Like" at www.facebook.com/LucasOilSpeedway and on www.youtube.com/LucasOilSpeedway
About Lucas Oil Speedway
Lucas Oil Speedway is considered by fans, drivers and industry insiders to be one of the top five racing facilities in the nation. Located in Wheatland, Missouri, approximately an hour from Springfield, Missouri, and just an hour and a half from the Kansas City metro area, the "Diamond of Dirt Tracks" lives up to its title.
Twenty-One VIP Luxury Suites, HD Jumbo-Tron Screen, Stadium Style Musco Sports Lighting, a Bose Sound System, Go-Kart Slick Track, The Diamond Bar, Track Treasures Gift Shop, the best track food in the country and paved pits are a few of the spectacular amenities setting the Diamond of Dirt apart. This year marks the 12th season for the Liquid Quarter Mile Drag Racing Lake, "Lake Lucas." New for 2017 was all-purpose built Off Road facility featuring a host of regional events.
Lucas Oil Speedway's dirt oval track plays host to some of the largest and most-popular events in the Midwest with national and regional touring series appearing frequently including: The Lucas Oil Late Model Dirt Series, POWRi Midget National Series, Lucas Oil Pro Pulling League, United States Modified Touring Series, ASCS Sprint Cars and the Lucas Oil MLRA.
In addition to the special events, the Lucas Oil Speedway Weekly Racing Series features the Late Models, USRA Modifieds, USRA Stock Cars and USRA B-Mods.
2023 Official Lucas Oil Speedway Marketing Partners
Arizona Sport Shirts
"The Official Merchandise Provider" of Lucas Oil Speedway
Bill Roberts Chevrolet-Buick
"The Official Truck" of Lucas Oil Speedway
Dixie Chopper
"The Official Mowers of Lucas Oil Speedway"
General Tire
"The Official Tire" of Lucas Oil Speedway
Lucas Oil Products
"The Official Oil" of Lucas Oil Speedway
MAVTV
"The Official Television Network" of Lucas Oil Speedway
Ozarks Coca-Cola/Dr. Pepper
"The Official Soft Drink" of Lucas Oil Speedway
RacingJunk.com
"The Official Classifieds" of Lucas Oil Speedway
Rugged Radios
"The Official 2-Way Communications Provider" of Lucas Oil Speedway
Summit Racing Equipment
"The Official Sponsor" of Lucas Oil Speedway
Sunoco Race Fuels
"The Official Fuel" of Lucas Oil Speedway
Super Clean
"The Official Sponsor" of Lucas Oil Speedway
2023 Lucas Oil Speedway Supporters Include:
AM Pyrotechnics, Alliance Sport Marketing, Arctic Food Equipment, Arizona Sport Shirts, Berry Tractor and Equipment Co., Big Adventure RV, Bill Roberts Chevrolet-Buick, Bolivar Auto Sales & Detailing, Bolivar Farmers Exchange-MFA, Boone's BBQ Barn, Boubin Tire/American Racer, Branstetter & Lightfoot LLC, Bridal Cave, BWI Sanitation, Camden on the Lake Resort, Candlelight Creations-Dick's Wild Root Horseradish, Casey's, Cedar Creek Beef Jerky, Citizens Memorial Healthcare, City Magnet, Clearlight Inn, Dirt Track Specialist, Dixie Chopper, Eagle Vision Paving LLC, Eibach Springs, Farmers Insurance Agent Kristy Reynolds, Fast Shafts by Axle Exchange, Foley Equipment-Cat Rental Store, Frog Signs, Golden Valley Memorial Healthcare, Hermitage Lumber, HICKAMO Country Store, Hobbytime Motorsports, Impact Signs Awnings Wraps, In the Garden of Eden, KC Bobcat, Kettle Treats, Keyser Manufacturing, Kluhsman Racing Components, Kona Ice, Lucas Cattle Company, MD3, Midwest Sheet Metal, Miller Welding, Missouri Division of Tourism, MyRacePass, Nutrien Ag Solutions, OakStar Bank, O'Bannon Bank, O'Reilly Auto Parts, Ozark Golf Cars, Ozarks Coca-Cola/Dr. Pepper, Ozarks Community Health Center, PEM, Pitts Homes, Pitts Realty, Pitts Cattle, Pomme de Terre Resort, ProThings Apparel, RACEceiver, Racinboys.com, RacinDirt.com, RacingJunk.com, Rains Ice Company, Real Racing Wheels, Reed Environmental, River's End Motel & RV Park, Rod End Supply, Ron Jenkins Accounting & Tax Service, Rugged Radios, Ryan E. Murphy Law Firm LLC, SBU Athletics, Safety Kleen, Scott Furniture, Sidetrack RV Park, Simpson Racing Products, SMC, Southwest Electric Cooperative, State Tech, Stillwater Resort, Summit Racing Equipment, Sunoco Race Fuels, US Army Corps of Engineers-Pomme de Terre, Vietti Marketing Group, Wasoba Seed & Trucking, Wheatland Motel, White's Marine Center, Wieland, Wild Animal Safari, Woods Supermarkets.
---
Article Credit: By Lyndal Scranton, Lucas Oil Speedway
Back to News