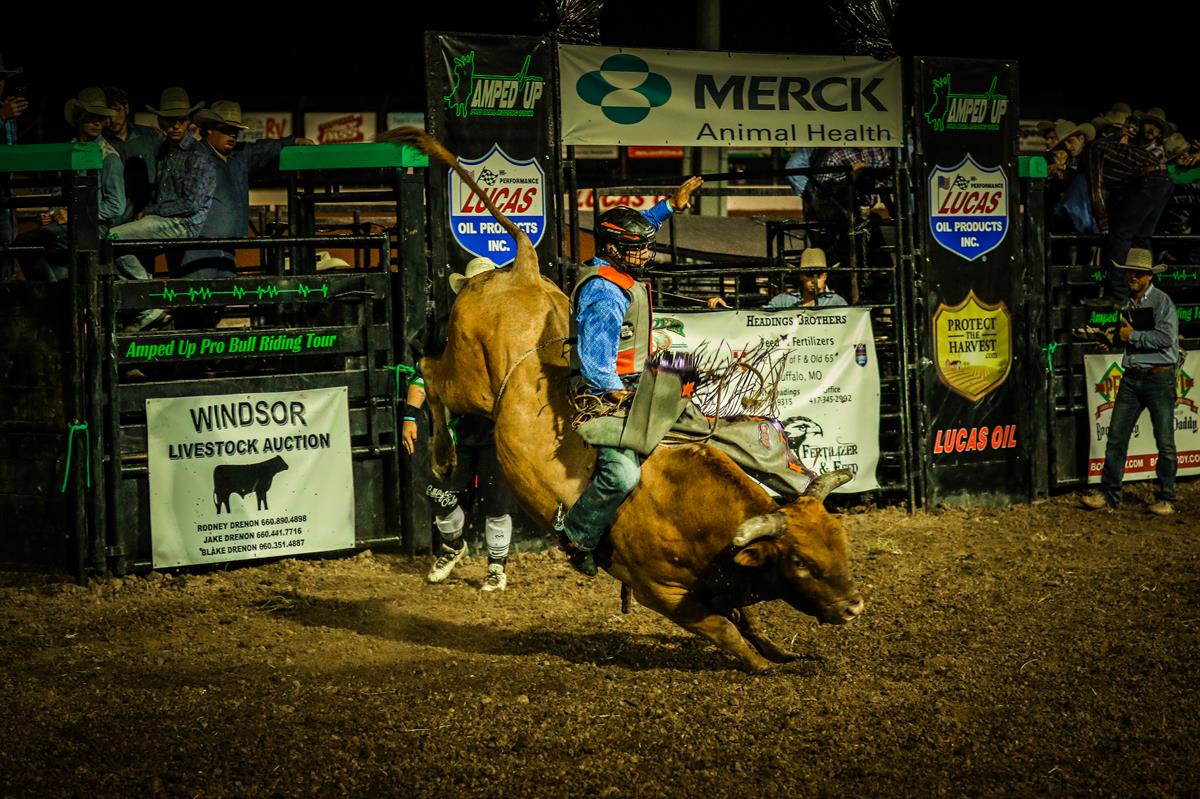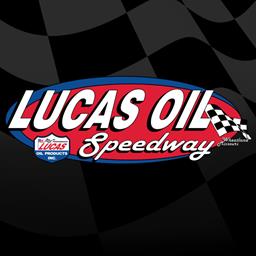 6/22/2022
Lucas Oil Speedway
---
Lucas Oil Pro Bull Riding Invitational Spotlight: Riding and its danger a part of life for Zane Cook
WHEATLAND, MO. (June 22, 2022) - One of the best-known riders scheduled to compete at this weekend's Lucas Oil Pro Bull Riding Invitational Presented by ProtecttheHarvest.com at Lucas Oil Speedway said danger is an accepted part of the sport.
Zane Cook of Fort Gibson, Oklahoma, grew up in a family that did team roping. Cook, 28, rode his first steer at age 12 and got on his first bull a year later. He won a gold buckle and was hooked.
"I haven't turned back since," Cook said of a career that's taken him to the 2016 PBR National Finals in Las Vegas, regarded as the Super Bowl of bull riding, and many other places all over the country.
This weekend Cook will be among at least 30 Amped Up Tour riders on hand at Lucas Oil Speedway on Friday and Saturday, competing for $20,000 in prize money and the coveted first-place buckle. He wound up second in the event one year ago.
"It's a little bit different setting and atmosphere," Cook said of the constructed bull-riding area in front of the grandstands at the dirt track. "But I really like the Lucas Oil bull riding. They always treat us good. It's a great pen of bulls and outstanding crowd. I'm always fond of that one."
Climbing atop 1,800-pound animals who have a desire to toss you off takes a special sort of person to excel. Cook is not unlike most riders in that he's suffered a variety of injuries over the years.
"I broke my sternum and shattered my right ankle, which is now mostly fake. It's mostly metal and screws," Cook said of the ankle. "I tore up a knee. There are a lot of scars from stitches, bruises and bumps along the way. That's just part of it.
"They say it's not if, but when, in bull riding," he added of the injury risk. "You kind of know that going in. I don't fret on it or think about it too much. I just think about riding the bull and winning the prize."
While 28 is not old by most standards, Cook said it's interesting that he's now one of the older riders out there. He calls the younger riders "bright-eyed, bushy-tailed and ready to go and full of energy and usually pretty healthy, still.
"I'm a little older and don't get up near as fast when I hit the ground. I kind of have to pick and choose where and when I get on bulls. The older you get, you get a little smarter about it. You want to go and get on good bulls instead of some nasty, junky, out-of-line or something that's super rank. I like to choose where good, solid bulls."
Cook knows he can't ride forever and has other irons in the fire, some connected to the rodeo business. He and his family are raising bucking bulls and some of those will be in the pens this weekend at Wheatland. He also instructs in a bull-riding school and has a fence company with some major jobs that have cut into this riding season a bit.
But Cook still has the competitive fire to climb aboard and hang on for eight seconds. He plans to rejoin the PBR Tour later in the year while hoping to make most of the Amped Up Tour events this summer.
When bull riding is in your blood, it stays there. Cook said the thrill is something that is difficult to explain.
"Man, it's just a feeling in its own," he said. "It's not like riding a rollercoaster. I've never jumped out of a plane, so I can't tell you what that feels like. But it's definitely it's own rush."
There's something to be said for having more experience than many of his peers.
"The more you do it and the longer you do it, the more-seasoned you get and everything slows down a lot," Cook said. "You learn to control your emotions, but you know what's going on and how dangerous and how real this sport is."
Gates open at 5:30 p.m. with the shows scheduled to start at 7:30 both Friday and Saturday. The combined rounds from both nights will determine the overall final standings on Saturday.
Kansas bull rider Trey Holston won the Lucas Oil Pro Bull Riding Invitational overall title a year ago with Cook finishing as runner-up.
Fans can visit ampedupprobulltour.com for information about the Amped Up Pro Bull Riding Tour.
Friday admission:
Adults (16 and over) - $20
Seniors (62 and over)/Military - $17
Youth (ages 6-15) - $10
Kids (5 and under) - FREE
Family Pass (two adults, up to three youth) $50
Saturday admission:
Adults (16 and over) - $20
Seniors (62 and over)/Military - $17
Youth (ages 6-15) - $10
Kids (5 and under) - FREE
Family Pass (two adults, up to three youth) $50
To purchase tickets for any event on Lucas Oil Speedway's schedule, or to inquire about camping information, contact Admissions Director Nichole McMillan at (417) 295-6043 or via email at nichole@lucasoilspeedway.com.
CONTACT:
Danny Lorton
Lucas Oil Speedway General Manager
Office: (417) 282-5984
DLorton@lucasoilspeedway.com
Complete Lucas Oil Speedway event information, archived race recaps, previews and driver features, along with ticket information and schedules can be found by visiting LucasOilSpeedway.com.
Lucas Oil Speedway is located at Highways 83 and 54 in Wheatland, Missouri. A campground with shower and bathroom facilities is also available. With its entrance located just outside the pit gate this sprawling scenic camping facility will continue to enhance the racing experience at the Diamond of Dirt Tracks.
Click LucasOilSpeedway.com for more information and detailed directions to the speedway or call the Track Hotline at (417) 282-5984. The Lucas Oil Speedway EZ Texting number is (417) 804-4141.
In addition, fans can get social with Lucas Oil Speedway by following @LucasSpeedway on Twitter, clicking "Like" at www.facebook.com/LucasOilSpeedway and on www.youtube.com/LucasOilSpeedway
About Lucas Oil Speedway
Lucas Oil Speedway is considered by fans, drivers and industry insiders to be one of the top five racing facilities in the nation. Located in Wheatland, Missouri, approximately an hour from Springfield, Missouri, and just an hour and a half from the Kansas City metro area, the "Diamond of Dirt Tracks" lives up to its title.
Twenty-One VIP Luxury Suites, HD Jumbo-Tron Screen, Stadium Style Musco Sports Lighting, a Bose Sound System, Go-Kart Slick Track, The Diamond Bar, Track Treasures Gift Shop, the best track food in the country and paved pits are a few of the spectacular amenities setting the Diamond of Dirt apart. This year marks the 12th season for the Liquid Quarter Mile Drag Racing Lake, "Lake Lucas." New for 2017 was all-purpose built Off Road facility featuring a host of regional events.
Lucas Oil Speedway's dirt oval track plays host to some of the largest and most-popular events in the Midwest with national and regional touring series appearing frequently including: The Lucas Oil Late Model Dirt Series, POWRi Midget National Series, Lucas Oil Pro Pulling League, United States Modified Touring Series, ASCS Sprint Cars and the Lucas Oil MLRA.
In addition to the special events, the Lucas Oil Speedway Weekly Racing Series features the Late Models, USRA Modifieds, USRA Stock Cars and USRA B-Mods.
2022 Official Lucas Oil Speedway Marketing Partners
Arizona Sport Shirts
"The Official Merchandise Provider" of Lucas Oil Speedway
Bill Roberts Chevrolet-Buick
"The Official Truck" of Lucas Oil Speedway
Dixie Chopper
"The Official Mowers of Lucas Oil Speedway"
General Tire
"The Official Tire" of Lucas Oil Speedway
Lucas Oil Products
"The Official Oil" of Lucas Oil Speedway
MAVTV
"The Official Television Network" of Lucas Oil Speedway
Optima Batteries
"The Official Battery" of Lucas Oil Speedway
Ozarks Coca-Cola/Dr. Pepper
"The Official Soft Drink" of Lucas Oil Speedway
RacingJunk.com
"The Official Classifieds" of Lucas Oil Speedway
Rugged Radios
"The Official 2-Way Communications Provider" of Lucas Oil Speedway
Sunoco Race Fuels
"The Official Fuel" of Lucas Oil Speedway
Super Clean
"The Official Sponsor" of Lucas Oil Speedway
2022 Lucas Oil Speedway Supporters Include:
AM Pyrotechnics, Arizona Sport Shirts, Ash Grove Aggregates, Berry Tractor and Equipment Co., Big Adventure RV, Bill Roberts Chevrolet-Buick, Bolivar Auto Sales & Detailing, Bolivar Farmers Exchange-MFA, Boone's BBQ Barn, Boubin Tire/American Racer, Branstetter & Lightfoot LLC, Bridal Cave, BWI Sanitation, Camden on the Lake Resort, Candlelight Creations-Dick's Wild Root Horseradish, Casey's, Cedar Creek Beef Jerky, Citizens Memorial Healthcare, City Magnet, Clearlight Inn, Comfort Inn-Bolivar,DirtonDirt.com, Dixie Chopper, eBay Motors, Eibach Springs, Evans Pipe & Steel Co., Farmers Insurance Agent Kristy Reynolds, Fast Shafts by Axle Exchange, Foley Equipment-Cat Rental Store, Frog Signs, Golden Valley Memorial Healthcare, Hermitage Lumber, HICKAMO Country Store, Highway 54 RV Park, Hobbytime Motorsports, Hoosier Race Tires, Impact Signs Awnings Wraps, In the Garden of Eden, Kettle Treats, Keyser Manufacturing, Kluhsman Racing Components, Kona Ice, Lucas Cattle Company, Margaritaville Lake Resort, Midwest Sheet Metal, Miller Welding, Missouri Department of Tourism, Missouri Division of Tourism, MyRacePass, Nutrien Ag Solutions, OakStar Bank, O'Bannon Bank, O'Reilly Auto Parts, Ozark Golf Cars, Ozarks Coca-Cola/Dr. Pepper, Ozarks Community Health Center, PEM, Pitts Homes, Pitts Realty, Pitts Cattle, ProThings Apparel, RACEceiver, Racinboys.com, RacinDirt.com, RacingJunk.com, Rains Ice Company, Real Racing Wheels, Rod End Supply, Ron Jenkins Accounting & Tax Service, Rugged Radios, Ryan E. Murphy Law Firm LLC, SBU Athletics, Safety Kleen, Scott Furniture, Simpson Racing Products, Southwest Electric Cooperative, Stillwater Resort, Sunoco Race Fuels, Sunflower Resort, TA/PETRO, US Army Corps of Engineers-Pomme de Terre, Vietti Marketing Group, Wheatland Motel, White's Marine Center, Wild Animal Safari, Woods Supermarkets, Wrisco Industries.
---
Article Credit: By Lyndal Scranton, Lucas Oil Speedway
Back to News