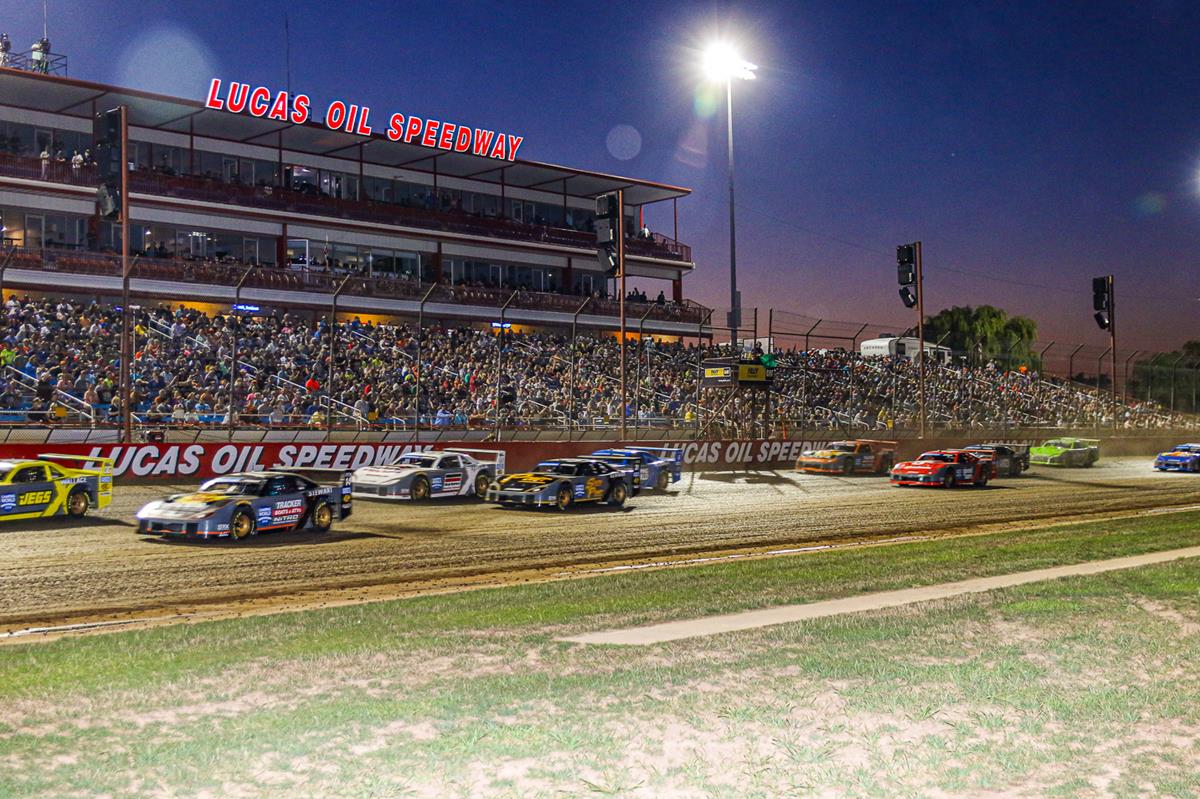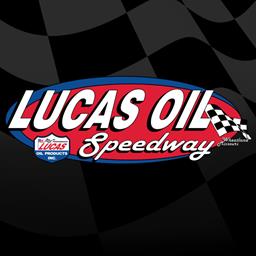 11/3/2023
Lucas Oil Speedway
---
Twelve memorable moments from 2023 Lucas Oil Speedway season
WHEATLAND, MO. (Nov. 3, 2023) - With the final checkered flag having waved on the 2023 Lucas Oil Speedway season, it's time for our annual review of the "Diamond Dozen," a top 12 moments of the season. The list is compiled by Lucas Oil Speedway public relations director Lyndal Scranton with an assist from track announcer Shane Friebe.
1 - Huge crowd, big names, thrilling finish: One of the biggest motorsports events in southwest Missouri history lived up to its billing as a familiar face visit victory lane as the Camping World SRX Series came to Wheatland on Aug. 17.
Jonathan Davenport, putting on a display worthy of his nickname of "Superman," led all 90 laps to capture the SRX Thursday Night Thunder season finale in front of 8,710 roaring fans and countless others watching on ESPN.
Davenport, one of the world's premier Dirt Late Model drivers, won for the fifth time at Lucas Oil Speedway in 2023 adding to four Lucas Oil Late Model Dirt Series/Lucas Oil MLRA wins. The Blairsville, Georgia, native emerged from a thrilling battle with Clint Bowyer after a restart with 10 laps remaining that had the big crowd on its feet.
Brad Keselowski rallied from 10th to finish second with Ken Schrader third and Ryan Newman, the 2023 Camping World SRX champion, taking fourth.
"I'm speechless. This is awesome," said Davenport, a five-time World 100 winner and three-time Lucas Oil Late Model Dirt Series champion. "I was just out there pacing myself, trying to keep the edges on the tires and do dirt-guys stuff."
2 - Wild and Wacky Show-Me 100 to Moran: The 31st annual Show-Me 100 Presented by Missouri Division of Tourism had a little bit of everything as it was wild and crazy, rough and tumble and had post-race controversy.
Devin Moran, second under the checkers, was declared the victor when apparent race-winner Ricky Thornton Jr. was penalized four positions in post-race inspection.
"What the hell?" Moran asked in victory lane after claiming the $50,000 first prize. "This is like the best, worst win of my life. I just won the frickin' Show-Me 100 and $50,000, but Ricky was the best car in the field."
Moran, 28 of Dresden, Ohio, claimed the win after he finished just under one second behind Thornton. But a few moments later, Lucas Oil Late Model Dirt Series officials announced that Thornton's car was in violation of the "droop rule" regarding the height of the rear deck.
Tim McCreadie wound up officially in second with Spencer Hughes third, defending champion Chris Ferguson fourth and Thornton eventually penalized to fifth place. Local favorite 19-year-old Dillon McCowan of Urbana was sixth.
Thornton, of Martinsville, Ind., led the final 43 laps in a race that turned into survival of the fittest with 13 caution flags and a track that had plenty of character - especially over the final half of the event.
Asked how long it was going to take for it to set in that he was a Show-Me 100 champion, Moran shook his head.
"I have no idea," Moran said. "There might be an asterisk by it, but it's gonna pay 50 grand one way or the other, so we're gonna take it. And we're gonna drink some beer tonight."
3 - Cox's challenging season capped by Fall Brawl win: What had been a challenging season for Tucker Cox at Lucas Oil Speedway, including a massive crash that sidelined him for nearly two months, ended with his biggest triumph in the late-September Inaugural Fall Brawl.
The Jefferson City driver, who broke his foot in a hard crash in mid-April, took control late in a wild State Tech Hermitage Lumber Late Model Fall Brawl to walk away with the $4,000 winner's check.
The rare daytime event, moved up in anticipation of evening rain, turned out to be a memorable one with Cox scoring an emotional win in his new Capital Race Car. Cox was running fourth or fifth most of the race, but pounced when misfortune found frontrunners Justin Wells and Johnny Fennewald in a wild last 10 laps.
Cox took the lead on lap 34, lost it to Tommy Cordray on lap 36 and regained it the next time around in the 40-lap main event.
"I was just trying to be patient," Cox said. "I had to calm it down. I was getting a little too anxious there the first 15 or 20 laps. "I apologize to Cordray, for getting into him, but I wanted to win really bad. We were going for four grand, so rubbin's racin."
4 - Morton doubles up before fireworks at Thursday Night Thunder: Lucas Oil Speedway's annual Casey's Thursday Night Thunder to kick off 4th of July weekend was extra memorable for JC Morton as the Springfield driver had a career night. Moments after winning the Ozark Golf Cars USRA B-Mod feature, Morton captured his first Hermitage Lumber Late Model feature victory.
While he's won countless times in his B-Mod over the years, the Late Model win was specia. He was driving the car for Moon Brothers Racing out of Sedalia. Morton held off veteran Justin Wells, the Lucas Oil Speedway runaway Late Model points leader, for the win.
"We've been really close," Morton said of the Late Model. "We've had a bunch of seconds. I keep giving Justin a hard time to just let me win, but finally it all came together."
5 - Thornton scores MLRA Spring Nationals win: Showing signs of a year for the ages was ahead, Ricky Thornton Jr. got to the lead early and there was no stopping him as a star-studded field of drivers took part in Night 1 of the 10th annual Lucas Oil MLRA Spring Nationals Presented by Arizona Sport Shirts.
Thornton earned $5,000 for his second career MLRA victory, dominating a field of 48 Late Models that checked into the pits for the opener of the weekend. Thornton went on to dominate the regular season on the Lucas Oil Late Model Dirt Series and win 36 features overall.
"We were really good there," Thornton said after the Spring Nationals victory, which attracted a large and deep field as national-touring series events scheduled for this weekend were rained out. "We practiced really good yesterday and I was super comfortable. It was a good night."
6 - Popular win for a USRA Modified veteran: A late-July Big Adventure Weekly Racing Series event was highlighted by a popular win for veteran Terry Kirk after his victory in the Cedar Creek Beef Jerky USRA Modified feature.
"You bet, I did hear those," Kirk said of the cheers in victory lane. "I was surprised, but you know, I've been around forever. I've run a lot of races over there at Wheatland. I won a lot of races back before it was Lucas Oil and before it had a wall around it."
Back in the days of Wheatland Raceway, Kirk raced there and all over the place and won his share of races. The last few years, he's slowed to a part-time schedule with more focus on helping his son, Colson Kirk, campaign a USRA B-mod. Kirk joked that he can't remember the last time he won a feature at Lucas Oil Speedway just saying it's been "a long, long time."
The Urbana resident was in vintage form, leading all 20 years for the Cedar Creek Beef Jerky USRA Modified victory as he outdistanced season points leader Ryan Middaugh.
7 - Sanders breaks Ramirez's Show-Me Shootout dominance: One of the most-successful drivers in United States Modified Touring Series history put an end to Dereck Ramirez's domination at Lucas Oil Speedway.
Rodney Sanders, of Happy, Texas, led all 50 laps to hold off Ramirez in 14th annual USMTS Summit Show-Me Shootout Presented by Foley Equipment.
Ramirez had won the early August race the three previous seasons, but Sanders kept him from making it four in a row and took home the $10,000 payday. He also expanded his season points lead in a bid to make it five USMTS championships.
"Dereck is super good here," Sanders said. "He's been really getting himself going lately and I knew he would be hard to beat."
8 - Fastest lap in speedway history, then a feature victory: Garet Williamson went from the fastest driver to ever record a qualifying lap at Lucas Oil Speedway to the 25-lap POWRi 410 Outlaw Bandit Sprint Series feature winner on Aug. 19.
The Columbia, Mo., driver set a track record in qualifying with a lap of 12.998 seconds. The lap eclipsed the record of 13.019 by Jason Meyers in a World of Outlaws Sprint Car Series race at the speedway in 2010.
That earned Williamson the pole and he went on to lead the main event wire-to-wire and take home $5,000. It was the first-ever POWRi 410 Sprint Series appearance at Lucas Oil Speedway and Williamson made it memorable.
"This means everything to me. It feels really good to win this close to home," Williamson said. "This is pretty neat."
9 - Beck masters art of last-lap pass: Mason Beck of Urbana led only one lap, but it was the most important one. Beck overtook race-long-leader William Garner on the final circuit on June 24 to claim the O'Reilly Auto Parts USRA Stock Cars feature. It was one of three last-lap passes Beck would pull off for wins during the season.
Beck, who started eighth, battled his way through the field and into contention midway through the race. A four-way for second saw Beck emerge and begin his chase of Garner. Beck was on the leader's back bumper by lap 13 with Johnny Fennewald about five car lengths behind in third.
Beck went to the high side coming to the white flag and pulled slightly ahead of Garner coming out of turn two. He then won a drag race coming off turn four to the checkers to score his third feature win of the season.
"That was the most-exciting race I've ever been a part of," Beck said. "From fifth on - me, Waylon (Dimmitt), (James) McMillin, Fennewald - it was hard-fought and clean racing all the way to the checkered flag."
10 - What an opener as Stacye wins a thriller: In the Big Adventure Weekly Racing Series opener on March 25, Cayden Stacye of Fair Grove pulled off a last-lap pass of Bobby Williams of nearby Hermitage to pick up the feature victory in the Ozark Golf Cars USRA B-Mods.
Stacye drove past Williams on the inside of the final turn of the final lap and held on by a car length for his first Lucas Oil Speedway feature win.
"I wasn't sure if we were going to be able to get it done, with (Williams) on the pole there those last two laps," Stacye said. "I just knew that I had to get a good jump and we just kind of went from there. I just drove it hard and ended up on top."
11 - Young Timms rolls to Hockett-McMillin win: Youth was served as 17-year-old Ryan Timms led all but the first lap while capturing the 13th annual Jesse Hockett-Daniel McMillin Memorial ASCS Winged Sprint feature during the prestigious open-wheel event delayed a night by mid-September rain.
The Oklahoma City driver picked up $10,000 for the American Sprint Car Series victory after taking command on lap two and never looking back, holding off runner-up Jason Martin.
In the POWRi WAR Sprint main event, 25-year-old Ricky Lewis of Camarillo, Calif., outdueled Xavier Doney in the late stages to earn the $4,077 first prize.
12 - Williams wins race within the race on championship night: There was drama at the front and drama further back in the field in the Ozark Golf Cars USRA B-Mod main event on Rempfer Memorial Season Championship Night in late August.
Kris Jackson picked up the victory with a last-lap pass, but Bobby Williams celebrated the championship with what was probably the best 10th-place run of his career. The Ozark Golf Cars USRA B-Mod division was the only undecided class entering championship night and the race within the race for the points crown was just as fun as the battle for the race victory.
Williams, of Hermitage, claimed championship No. 1 after not winning a feature all season. But he was a mark of consistency, with eight top-five finishes and 14 top-10s. He beat JC Morton by a mere five points in the title chase.
"This season we've faced a lot of adversity at this track. It's been a love-hate relationship for us here," Williams said, adding that the championship was special for reasons other than himself. "I wanted this for my niece. She has heart surgery here in a few weeks, so we're glad to do that for her."
Other season champions were Mason Beck (O'Reilly Auto Parts USRA Stock Cars), Ryan Middaugh Cedar Creek Beef Jerky USRA Modifieds) and Justin Wells (Hermitage Lumber Late Models).
Lucas Oil Speedway Banquet set for Dec. 1: Lucas Oil Speedway's Postseason Awards banquet is scheduled for Friday, Dec. 1 at the Ozark Empire Fairgrounds' Center Hall in Springfield.
Tickets to the banquet are $40 or $400 for a table of 10 and can be reserved by calling the speedway office at (417) 282-5984. RSVP deadline is Nov. 9.
Doors open with a social hour from 6-7 p.m. with invocation and dinner to follow at 7 p.m. The awards ceremony will follow.
Along with drivers, family members, crew and sponsors the event is open to the general public. The Ozark Empire Fairgrounds is located at 3001 N. Grant Ave., in Springfield.
For ticket information for the banquet or any future event at Lucas Oil Speedway contact admissions director Nichole McMillan at (417) 282-5984 or email her at nichole@lucasoilspeedway.com for more information.
CONTACT:
Danny Lorton
Lucas Oil Speedway General Manager
Office: (417) 282-5984
DLorton@lucasoilspeedway.com
Complete Lucas Oil Speedway event information, archived race recaps, previews and driver features, along with ticket information and schedules can be found by visiting LucasOilSpeedway.com.
Lucas Oil Speedway is located at Highways 83 and 54 in Wheatland, Missouri. A campground with shower and bathroom facilities is also available. With its entrance located just outside the pit gate this sprawling scenic camping facility will continue to enhance the racing experience at the Diamond of Dirt Tracks.
Click LucasOilSpeedway.com for more information and detailed directions to the speedway or call the Track Hotline at (417) 282-5984. The Lucas Oil Speedway EZ Texting number is (417) 804-4141.
In addition, fans can get social with Lucas Oil Speedway by following @LucasSpeedway on Twitter, clicking "Like" at www.facebook.com/LucasOilSpeedway and on www.youtube.com/LucasOilSpeedway
About Lucas Oil Speedway
Lucas Oil Speedway is considered by fans, drivers and industry insiders to be one of the top five racing facilities in the nation. Located in Wheatland, Missouri, approximately an hour from Springfield, Missouri, and just an hour and a half from the Kansas City metro area, the "Diamond of Dirt Tracks" lives up to its title.
Twenty-One VIP Luxury Suites, HD Jumbo-Tron Screen, Stadium Style Musco Sports Lighting, a Bose Sound System, Go-Kart Slick Track, The Diamond Bar, Track Treasures Gift Shop, the best track food in the country and paved pits are a few of the spectacular amenities setting the Diamond of Dirt apart. This year marks the 12th season for the Liquid Quarter Mile Drag Racing Lake, "Lake Lucas." New for 2017 was all-purpose built Off Road facility featuring a host of regional events.
Lucas Oil Speedway's dirt oval track plays host to some of the largest and most-popular events in the Midwest with national and regional touring series appearing frequently including: The Lucas Oil Late Model Dirt Series, POWRi Midget National Series, Lucas Oil Pro Pulling League, United States Modified Touring Series, ASCS Sprint Cars and the Lucas Oil MLRA.
In addition to the special events, the Lucas Oil Speedway Weekly Racing Series features the Late Models, USRA Modifieds, USRA Stock Cars and USRA B-Mods.
2023 Official Lucas Oil Speedway Marketing Partners
Arizona Sport Shirts
"The Official Merchandise Provider" of Lucas Oil Speedway
Bill Roberts Chevrolet-Buick
"The Official Truck" of Lucas Oil Speedway
Dixie Chopper
"The Official Mowers of Lucas Oil Speedway"
General Tire
"The Official Tire" of Lucas Oil Speedway
Lucas Oil Products
"The Official Oil" of Lucas Oil Speedway
MAVTV
"The Official Television Network" of Lucas Oil Speedway
Ozarks Coca-Cola/Dr. Pepper
"The Official Soft Drink" of Lucas Oil Speedway
RacingJunk.com
"The Official Classifieds" of Lucas Oil Speedway
Rugged Radios
"The Official 2-Way Communications Provider" of Lucas Oil Speedway
Summit Racing Equipment
"The Official Sponsor" of Lucas Oil Speedway
Sunoco Race Fuels
"The Official Fuel" of Lucas Oil Speedway
Super Clean
"The Official Sponsor" of Lucas Oil Speedway
2023 Lucas Oil Speedway Supporters Include:
AM Pyrotechnics, Alliance Sport Marketing, Arctic Food Equipment, Arizona Sport Shirts, Berry Tractor and Equipment Co., Big Adventure RV, Bill Roberts Chevrolet-Buick, Bolivar Auto Sales & Detailing, Bolivar Farmers Exchange-MFA, Boone's BBQ Barn, Boubin Tire/American Racer, Branstetter & Lightfoot LLC, Bridal Cave, BWI Sanitation, Camden on the Lake Resort, Candlelight Creations-Dick's Wild Root Horseradish, Casey's, Cedar Creek Beef Jerky, Citizens Memorial Healthcare, City Magnet, Clearlight Inn, Dirt Track Specialist, Dixie Chopper, Eagle Vision Paving LLC, Eibach Springs, Farmers Insurance Agent Kristy Reynolds, Fast Shafts by Axle Exchange, Foley Equipment-Cat Rental Store, Frog Signs, Golden Valley Memorial Healthcare, Hermitage Lumber, HICKAMO Country Store, Hobbytime Motorsports, Impact Signs Awnings Wraps, In the Garden of Eden, KC Bobcat, Kettle Treats, Keyser Manufacturing, Kluhsman Racing Components, Kona Ice, Lucas Cattle Company, MD3, Midwest Sheet Metal, Miller Welding, Missouri Division of Tourism, MyRacePass, Nutrien Ag Solutions, OakStar Bank, O'Bannon Bank, O'Reilly Auto Parts, Ozark Golf Cars, Ozarks Coca-Cola/Dr. Pepper, Ozarks Community Health Center, PEM, Pitts Homes, Pitts Realty, Pitts Cattle, Pomme de Terre Resort, ProThings Apparel, RACEceiver, Racinboys.com, RacinDirt.com, RacingJunk.com, Rains Ice Company, Real Racing Wheels, Reed Environmental, River's End Motel & RV Park, Rod End Supply, Ron Jenkins Accounting & Tax Service, Rugged Radios, Ryan E. Murphy Law Firm LLC, SBU Athletics, Safety Kleen, Scott Furniture, Sidetrack RV Park, Simpson Racing Products, SMC, Southwest Electric Cooperative, State Tech, Stillwater Resort, Summit Racing Equipment, Sunoco Race Fuels, US Army Corps of Engineers-Pomme de Terre, Vietti Marketing Group, Wasoba Seed & Trucking, Wheatland Motel, White's Marine Center, Wieland, Wild Animal Safari, Woods Supermarkets.
---
Article Credit: By Lyndal Scranton, Lucas Oil Speedway
Back to News