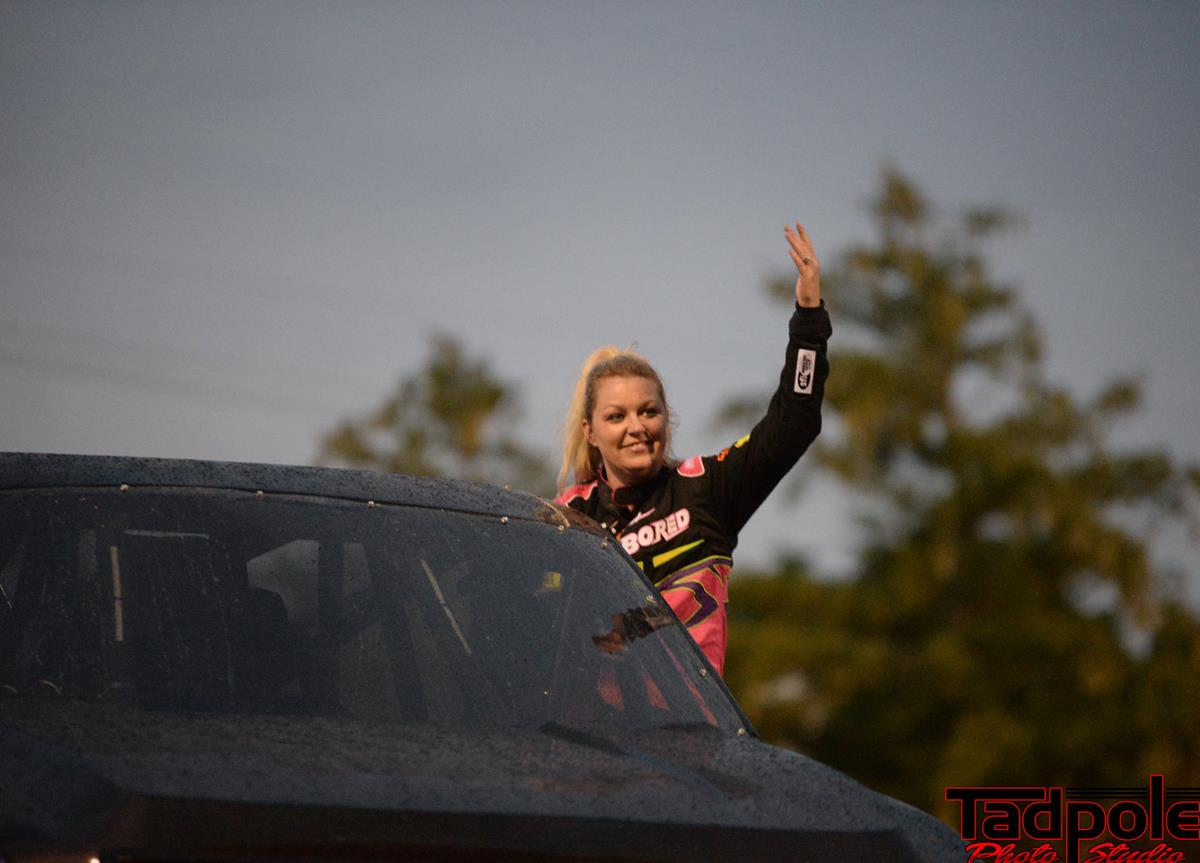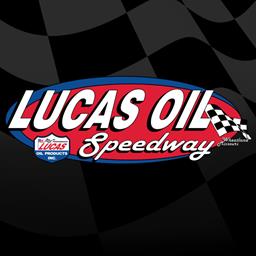 10/17/2023
Lucas Oil Speedway
---
Mom, real estate agent and Monster Truck driver Deidra Ballard ready for Lucas Oil Speedway "Eve of Destruction"
WHEATLAND, MO. (Oct. 17, 2023) - When Deidra Ballard's weekend hobby comes up in conversations with fellow real estate agents or clients, it's quite a conversation starter.
Monster Truck driver? Really?
"I'm a mom with an eight-year-old girl and when people take a glance at me, I don't think they would say, 'she's a monster truck driver.' But when they find out, they think it's super cool," said Ballard. "They tell their kids and it strikes up a lot of new friendships.
"A lot of my clients at any of the businesses, when they find out they end up coming to our shows and they'll end up following us around. After they do that, they're not just friends any more, they kind of become family."
Ballard is the driver of Miss Over Bored and her husband, Jamey Garner, pilots Over Bored. Those are two of the eight Monster Trucks scheduled to entertain the crowd Saturday at Lucas Oil Speedway's O'Reilly Auto Parts Outlaw Nationals - Eve of Destruction.
Freestyle Motocross and much more, including a pre-show Pit Party are on the schedule. Advance discounted tickets are available at area O'Reilly Auto Parts locations. Gates open at 4:30 p.m. with the Pit Party 4:30-6:15 p.m. and show time at 7 p.m.
Ballard said she's one of only a few women who have driven Monster Trucks at the highest level. She traces her ability to do so back to her childhood as a self-proclaimed "daddy's girl and grew up in a garage" which helps her understand the mechanical workings of the powerful trucks.
"We had three-wheelers, dirt bikes and go-karts," Ballard said of growing up. "I was that girl that was all over my parent's land and doing all those daredevil things."
In addition to working as a realtor in Fortville, Ind., Deidra and Jamey own their own towing business. The road to driving the big rigs began when they were invited to a Monster Truck show in Indianapolis in 2013 and got to know Jim Koehler, the driver of Avenger, after his truck needed towing after an engine problem.
"We became friends with Jim over that weekend," Ballard said. "We have a custom paint shop and did some painting for him on his trailers and some custom bodies for the Avenger for world finals. As a thank-you, they ended up letting Jamie drive one of their trucks one weekend. He was hooked.
"Jamey ended up buying a chassis and started driving. After a couple of years he decided he was going to buy a new chassis and get a fresh start with new stuff. That left original chassis empty. A promoter called one weekend and said they were down a truck and asked, 'are you able to bring the other truck and fill a spot?'
"We were loaded up and heading out when Jamey said, 'Oh, by the way, I'm gonna need you to drive this weekend.' That's how I started my career. He already had got me a suit and helmet together. I went out and I did it. Everyone were like. 'you did a pretty good job, we're gonna keep you in a truck.' It's pretty much continued from there."
Now, Deidra even uses her Monster Truck hobby for advertising in her job as a realtor.
"I'm a real estate agent, and oh by the way, I drive a monster truck, too," she said, with a laugh.
On a serious note, she said it's gratifying when she's recognized for her talents by kids or adults, of both genders.
"It's such a hit with the moms and the dads are super cool with it, too," she said. "A lot of the dads want me to go out and be successful against the guys just for a good laugh. But the moms and the daughters are where it's at, because they are super excited.
"It shows the girls, 'go out and do what you want. If you put your mind to it, there's nothing you can't do.' Some of the little boys are a little surprised. They're like, 'you can't do that' and I'm like, 'watch this.' After the show they'll come up and say, 'you did a really good job.' It's a hit with the whole family, honestly."
Ballard said she loves coming to Lucas Oil Speedway, especially this year after sitting out last year's event as Miss Over Bored was undergoing a makeover.
"I love coming there. It's a beautiful facility," she said. "I've always done really well there, though I do have a little bit of a curse going on the last couple of time. Two years in a row, I wound up getting toward the end of my freestyle and would break a wheel off, which the fans love but I don't know if I like it. But prior to that I always did good there.
"I was not behind the wheel last year. We had some truck chassis being swapped around and freshened up. We were down a chassis and had to fork my chassis over to my husband. It was good to get back in the seat this year. Everything's been going great, knock on wood, and hopefully it stays that way.
I jumped back in and pretty much took off right where I left off."
Along with Miss Over Bored and Over Bored, monster trucks scheduled to be on hand are Block Head, Maximus, Tannerite, Jurassic Attack, Wrecking Machine and Tailgator.
Meanwhile, X Games participants will be performing the latest tricks in Freestyle Motocross and the Monster Truck Back Flip will be back. Also, look for Pro and Stock Tuff Truck Racing where pros and weekend warriors from around the country will battle it out. If you think you have a Tuff Truck and can measure up, call 417-887-9400 for entry info.
Come early to meet the drivers, get autographs and take photos during the Pit Party. There's also a Mighty Monster Truck Bus Ride Truck. For $15, you can strap in and take a spin around the track in a Monster Truck during the Pit Party, during intermission or after the show.
Sticking to the tradition pre-Halloween theme, fans are encouraged to wear their favorite costume and come to trick or treat with all the show performers.
Fans are encouraged to purchase discounted tickets in advance at area O'Reilly Auto Parts locations.
Advance Discount Tickets (online or at area O'Reilly Auto Parts stores)
Adults (16 and up) - $25
Seniors (62 and up)/Military with ID - $22
Youth (6-15) - $15
Kids (5 and under) - FREE
Day of Show Tickets
Adults (16 and up) - $27
Seniors (62 and up)/Military with ID - $24
Youth (6-15) - $17
Kids (5 and under) - FREE
Family Pass (on-site only, two adults and up to three youth) - $71
For ticket information on any event at Lucas Oil Speedway contact admissions director Nichole McMillan at (417) 282-5984 or email her at nichole@lucasoilspeedway.com for more information.
CONTACT:
Danny Lorton
Lucas Oil Speedway General Manager
Office: (417) 282-5984
DLorton@lucasoilspeedway.com
Complete Lucas Oil Speedway event information, archived race recaps, previews and driver features, along with ticket information and schedules can be found by visiting LucasOilSpeedway.com.
Lucas Oil Speedway is located at Highways 83 and 54 in Wheatland, Missouri. A campground with shower and bathroom facilities is also available. With its entrance located just outside the pit gate this sprawling scenic camping facility will continue to enhance the racing experience at the Diamond of Dirt Tracks.
Click LucasOilSpeedway.com for more information and detailed directions to the speedway or call the Track Hotline at (417) 282-5984. The Lucas Oil Speedway EZ Texting number is (417) 804-4141.
In addition, fans can get social with Lucas Oil Speedway by following @LucasSpeedway on Twitter, clicking "Like" at www.facebook.com/LucasOilSpeedway and on www.youtube.com/LucasOilSpeedway
About Lucas Oil Speedway
Lucas Oil Speedway is considered by fans, drivers and industry insiders to be one of the top five racing facilities in the nation. Located in Wheatland, Missouri, approximately an hour from Springfield, Missouri, and just an hour and a half from the Kansas City metro area, the "Diamond of Dirt Tracks" lives up to its title.
Twenty-One VIP Luxury Suites, HD Jumbo-Tron Screen, Stadium Style Musco Sports Lighting, a Bose Sound System, Go-Kart Slick Track, The Diamond Bar, Track Treasures Gift Shop, the best track food in the country and paved pits are a few of the spectacular amenities setting the Diamond of Dirt apart. This year marks the 12th season for the Liquid Quarter Mile Drag Racing Lake, "Lake Lucas." New for 2017 was all-purpose built Off Road facility featuring a host of regional events.
Lucas Oil Speedway's dirt oval track plays host to some of the largest and most-popular events in the Midwest with national and regional touring series appearing frequently including: The Lucas Oil Late Model Dirt Series, POWRi Midget National Series, Lucas Oil Pro Pulling League, United States Modified Touring Series, ASCS Sprint Cars and the Lucas Oil MLRA.
In addition to the special events, the Lucas Oil Speedway Weekly Racing Series features the Late Models, USRA Modifieds, USRA Stock Cars and USRA B-Mods.
2023 Official Lucas Oil Speedway Marketing Partners
Arizona Sport Shirts
"The Official Merchandise Provider" of Lucas Oil Speedway
Bill Roberts Chevrolet-Buick
"The Official Truck" of Lucas Oil Speedway
Dixie Chopper
"The Official Mowers of Lucas Oil Speedway"
General Tire
"The Official Tire" of Lucas Oil Speedway
Lucas Oil Products
"The Official Oil" of Lucas Oil Speedway
MAVTV
"The Official Television Network" of Lucas Oil Speedway
Ozarks Coca-Cola/Dr. Pepper
"The Official Soft Drink" of Lucas Oil Speedway
RacingJunk.com
"The Official Classifieds" of Lucas Oil Speedway
Rugged Radios
"The Official 2-Way Communications Provider" of Lucas Oil Speedway
Summit Racing Equipment
"The Official Sponsor" of Lucas Oil Speedway
Sunoco Race Fuels
"The Official Fuel" of Lucas Oil Speedway
Super Clean
"The Official Sponsor" of Lucas Oil Speedway
2023 Lucas Oil Speedway Supporters Include:
AM Pyrotechnics, Alliance Sport Marketing, Arctic Food Equipment, Arizona Sport Shirts, Berry Tractor and Equipment Co., Big Adventure RV, Bill Roberts Chevrolet-Buick, Bolivar Auto Sales & Detailing, Bolivar Farmers Exchange-MFA, Boone's BBQ Barn, Boubin Tire/American Racer, Branstetter & Lightfoot LLC, Bridal Cave, BWI Sanitation, Camden on the Lake Resort, Candlelight Creations-Dick's Wild Root Horseradish, Casey's, Cedar Creek Beef Jerky, Citizens Memorial Healthcare, City Magnet, Clearlight Inn, Dirt Track Specialist, Dixie Chopper, Eagle Vision Paving LLC, Eibach Springs, Farmers Insurance Agent Kristy Reynolds, Fast Shafts by Axle Exchange, Foley Equipment-Cat Rental Store, Frog Signs, Golden Valley Memorial Healthcare, Hermitage Lumber, HICKAMO Country Store, Hobbytime Motorsports, Impact Signs Awnings Wraps, In the Garden of Eden, KC Bobcat, Kettle Treats, Keyser Manufacturing, Kluhsman Racing Components, Kona Ice, Lucas Cattle Company, MD3, Midwest Sheet Metal, Miller Welding, Missouri Division of Tourism, MyRacePass, Nutrien Ag Solutions, OakStar Bank, O'Bannon Bank, O'Reilly Auto Parts, Ozark Golf Cars, Ozarks Coca-Cola/Dr. Pepper, Ozarks Community Health Center, PEM, Pitts Homes, Pitts Realty, Pitts Cattle, Pomme de Terre Resort, ProThings Apparel, RACEceiver, Racinboys.com, RacinDirt.com, RacingJunk.com, Rains Ice Company, Real Racing Wheels, Reed Environmental, River's End Motel & RV Park, Rod End Supply, Ron Jenkins Accounting & Tax Service, Rugged Radios, Ryan E. Murphy Law Firm LLC, SBU Athletics, Safety Kleen, Scott Furniture, Sidetrack RV Park, Simpson Racing Products, SMC, Southwest Electric Cooperative, State Tech, Stillwater Resort, Summit Racing Equipment, Sunoco Race Fuels, US Army Corps of Engineers-Pomme de Terre, Vietti Marketing Group, Wasoba Seed & Trucking, Wheatland Motel, White's Marine Center, Wieland, Wild Animal Safari, Woods Supermarkets.
---
Article Credit: By Lyndal Scranton, Lucas Oil Speedway
Back to News