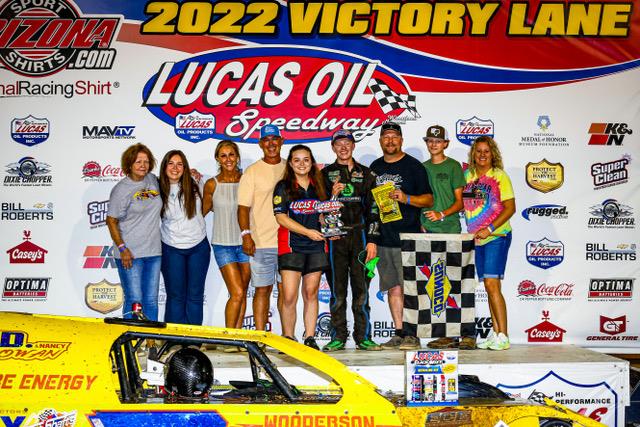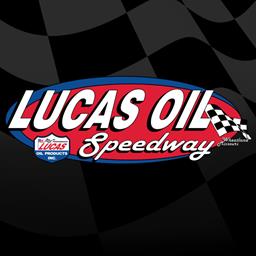 12/6/2022
Lucas Oil Speedway
---
Lucas Oil Speedway Champions Spotlight: Young McCowan celebrates in memory of Grandpa with Late Model plans next
WHEATLAND, MO. (Dec. 6, 2022) - Dillon McCowan has many fond memories of talking racing with his grandfather and one of those was a desire both had for Dillon to turn competitive laps in a dirt Late Model.
"That was our goal and it was special to all of us," Dillon McCowan said. "We couldn't have done it without Jesse Stovall. He loaned us a car and we were able to put it together and practice a little bit and eventually run a couple of races in it.
"I was sure glad that Grandpa got to see us run it."
A.D. McCowan, an Ozarks Area Racers Foundation Hall of Famer, passed away in September but not before 18-year-old Dillon had a pair of strong Late Model runs in the Lucas Oil Speedway Big Adventure RV Weekly Racing Series. There also was a second straight track championship in the Cedar Creek Beef Jerky USRA Modified division.
The wrap for both cars was A.D. McCowan's yellow No. 7x that he campaigned. That made it even more special for the entire family.
Dillon McCowan said it's time to retire the 7x and return to his green No. 8 in 2023. But a new chapter awaits as the Urbana resident is planning to move primarily to a Late Model, beginning with the Wild West Shootout next month in Vado, N.M.
"The plan right now is to take a Late Model and try to run it every night," McCowan said of the six-night Wild West Shootout. "We're trying to get geared up for the (Lucas Oil) MLRA season. We're gonna try to run that full time and hit some different super shows.
"We'll still have a Modified to run some USMTS stuff with it. We may take one Late Model and one Modified out to Vado, but I know for sure we'll be running a Late Model."
McCowan said he has a 2017 Longhorn that he and his dad, Charlie, have been working regularly on to prepare for next season. He called it a natural progression - and one he often talked with A.D. McCowan about.
"That's the goal and always has been the goal, racing Late Models for a living," McCowan said. "I love watching the Late Models and racing them is even better. It's a heck of a lot of fun. I promise you when they're good, they drive amazing compared to a Modified. But when it's not good, you can't muscle it around like you can a Modified."
McCowan's busy 2022 season saw him enter 72 events with 17 wins, 11 second-place finishes and 46 top-fives. He scored seven feature victories at Lucas Oil Speedway, where he wound up 22 points in front of Dustin Hodges in the championship chase.
"It was an amazing season," McCowan said. "We won quite a few races over there at Lucas. This year we wanted to pull the championship off for Grandpa. Not having him now really makes it tough, but being able to pull off the championship the second year in a row for him that was really good.
"It was fun getting to race there all season long and being in a points battle with Dustin and a couple of other guys. That made it really fun. I thought the track was exceptionally good all year long. The times we did hit the set-up on the car right, everything came together good and it was a fun season."
McCowan smiled about being named Lucas Oil Speedway's Most Popular Driver, from online fan balloting, for the second straight year. His friendly demeanor in the pits interacting with kids - and adults of all ages - is one he learned from his time as a lad.
"I love it when kids come over to the trailer. I used to be that little kid who wanted to go and talk to the drivers in the pits and see what was happening back there," McCowan said. "I love signing cards for the kids. You have to be kind and respectful to everybody who comes back there. Without the fans, we wouldn't be racing. It's all about the fans. That's why we're there."
Asked if there are specific drivers that stood out to him as a fan growing up, he said many fit the bill.
"A lot of them, really," he said. "I can't name one that was not good to me. They were always answering any questions that I had. I respected all those guys and I still do today."
McCowan said he hopes to drop into Lucas Oil Speedway and run weekly Modified programs next season, when his schedule permits. It seems fitting that the MLRA series opener, the 10th annual Spring Nationals, are at his home track on March 31-April 1.
"I'm excited to run there, the first show of the MLRA schedule," he said. "We love running over there and seeing everybody. That's like home to me."
McCowan thanks a long list of sponsors, including: Midwest Sheet Metal, Empire Energy, Pomeroy Services, Swift Springs, FastShafts, McCowan Farms, Rick Lowry Taxidermy, Ozark Motorsports Report, Hawk Fertilizer & Feed, Hawk Angus Farms, Wooderson Veterinary Clinic, Oak Star Bank, Don Howe Gravel & Dirt, Bud's Tire & Wheel, Specialty Risk Insurance, AD and Nancy McCowan, Joe's Hardware, Dobson Farms, Greg and Tina Day, Elusive Competition Engines, Midwest Wrap Co., and Mars Race Cars.
He gave a special shout-out to his parents, Mindy and Charlie.
"Without my Mom and Dad, I couldn't be living the dream today," he said. "I really am living the dream. This is what I've always wanted to do. We've put in a lot of hard work, but I wouldn't want to be doing anything else."
Lucas Oil Speedway recently announced the 2023 tentative schedule which includes the usual variety of motorsports on the dirt oval, drag-boat track and off-road course. The season begins with an Open Test & Tune on March 18 and the season-opener of the Big Adventure RV Weekly Racing Series is set for March 25.
For information regarding gift certificates which can be used in various areas of the speedway in 2023, contact Lucas Oil Speedway Admissions Director Nichole McMillan at (417) 282-5984 or by email at
nichole@LucasOilSpeedway.com.
CONTACT:
Danny Lorton
Lucas Oil Speedway General Manager
Office: (417) 282-5984
DLorton@lucasoilspeedway.com
?
Complete Lucas Oil Speedway event information, archived race recaps, previews and driver features, along with ticket information and schedules can be found by visiting LucasOilSpeedway.com.
Lucas Oil Speedway is located at Highways 83 and 54 in Wheatland, Missouri. A campground with shower and bathroom facilities is also available. With its entrance located just outside the pit gate this sprawling scenic camping facility will continue to enhance the racing experience at the Diamond of Dirt Tracks.
Click LucasOilSpeedway.com for more information and detailed directions to the speedway or call the Track Hotline at (417) 282-5984. The Lucas Oil Speedway EZ Texting number is (417) 804-4141.
In addition, fans can get social with Lucas Oil Speedway by following @LucasSpeedway on Twitter, clicking "Like" at www.facebook.com/LucasOilSpeedway and on www.youtube.com/LucasOilSpeedway
About Lucas Oil Speedway
Lucas Oil Speedway is considered by fans, drivers and industry insiders to be one of the top five racing facilities in the nation. Located in Wheatland, Missouri, approximately an hour from Springfield, Missouri, and just an hour and a half from the Kansas City metro area, the "Diamond of Dirt Tracks" lives up to its title.
Twenty-One VIP Luxury Suites, HD Jumbo-Tron Screen, Stadium Style Musco Sports Lighting, a Bose Sound System, Go-Kart Slick Track, The Diamond Bar, Track Treasures Gift Shop, the best track food in the country and paved pits are a few of the spectacular amenities setting the Diamond of Dirt apart. This year marks the 12th season for the Liquid Quarter Mile Drag Racing Lake, "Lake Lucas." New for 2017 was all-purpose built Off Road facility featuring a host of regional events.
Lucas Oil Speedway's dirt oval track plays host to some of the largest and most-popular events in the Midwest with national and regional touring series appearing frequently including: The Lucas Oil Late Model Dirt Series, POWRi Midget National Series, Lucas Oil Pro Pulling League, United States Modified Touring Series, ASCS Sprint Cars and the Lucas Oil MLRA.
In addition to the special events, the Lucas Oil Speedway Weekly Racing Series features the Late Models, USRA Modifieds, USRA Stock Cars and USRA B-Mods.
2022 Official Lucas Oil Speedway Marketing Partners
Arizona Sport Shirts
"The Official Merchandise Provider" of Lucas Oil Speedway
Bill Roberts Chevrolet-Buick
"The Official Truck" of Lucas Oil Speedway
Dixie Chopper
"The Official Mowers of Lucas Oil Speedway"
General Tire
"The Official Tire" of Lucas Oil Speedway
Lucas Oil Products
"The Official Oil" of Lucas Oil Speedway
MAVTV
"The Official Television Network" of Lucas Oil Speedway
Optima Batteries
"The Official Battery" of Lucas Oil Speedway
Ozarks Coca-Cola/Dr. Pepper
"The Official Soft Drink" of Lucas Oil Speedway
RacingJunk.com
"The Official Classifieds" of Lucas Oil Speedway
Rugged Radios
"The Official 2-Way Communications Provider" of Lucas Oil Speedway
Sunoco Race Fuels
"The Official Fuel" of Lucas Oil Speedway
Super Clean
"The Official Sponsor" of Lucas Oil Speedway
2022 Lucas Oil Speedway Supporters Include:
AM Pyrotechnics, Arizona Sport Shirts, Ash Grove Aggregates, Berry Tractor and Equipment Co., Big Adventure RV, Bill Roberts Chevrolet-Buick, Bolivar Auto Sales & Detailing, Bolivar Farmers Exchange-MFA, Boone's BBQ Barn, Boubin Tire/American Racer, Branstetter & Lightfoot LLC, Bridal Cave, BWI Sanitation, Camden on the Lake Resort, Candlelight Creations-Dick's Wild Root Horseradish, Casey's, Cedar Creek Beef Jerky, Citizens Memorial Healthcare, City Magnet, Clearlight Inn, Comfort Inn-Bolivar, DirtonDirt.com, Dixie Chopper, eBay Motors, Eibach Springs, Evans Pipe & Steel Co., Farmers Insurance Agent Kristy Reynolds, Fast Shafts by Axle Exchange, Foley Equipment-Cat Rental Store, Frog Signs, Golden Valley Memorial Healthcare, Hermitage Lumber, HICKAMO Country Store, Highway 54 RV Park, Hobbytime Motorsports, Hoosier Race Tires, Impact Signs Awnings Wraps, In the Garden of Eden, Kettle Treats, Keyser Manufacturing, Kluhsman Racing Components, Kona Ice, Lucas Cattle Company, Midwest Sheet Metal, Miller Welding, Missouri Department of Tourism, Missouri Division of Tourism, MyRacePass, Nutrien Ag Solutions, OakStar Bank, O'Bannon Bank, O'Reilly Auto Parts, Ozark Golf Cars, Ozarks Coca-Cola/Dr. Pepper, Ozarks Community Health Center, PEM, Pitts Homes, Pitts Realty, Pitts Cattle, ProThings Apparel, RACEceiver, Racinboys.com, RacinDirt.com, RacingJunk.com, Rains Ice Company, Real Racing Wheels, Rod End Supply, Ron Jenkins Accounting & Tax Service, Rugged Radios, Ryan E. Murphy Law Firm LLC, SBU Athletics, Safety Kleen, Scott Furniture, Simpson Racing Products, Southwest Electric Cooperative, Stillwater Resort, Summit Racing Equipment, Sunoco Race Fuels, US Army Corps of Engineers-Pomme de Terre, Vietti Marketing Group, Wheatland Motel, White's Marine Center, Wild Animal Safari, Woods Supermarkets, Wrisco Industries.
---
Article Credit: By Lyndal Scranton, Lucas Oil Speedway
Back to News