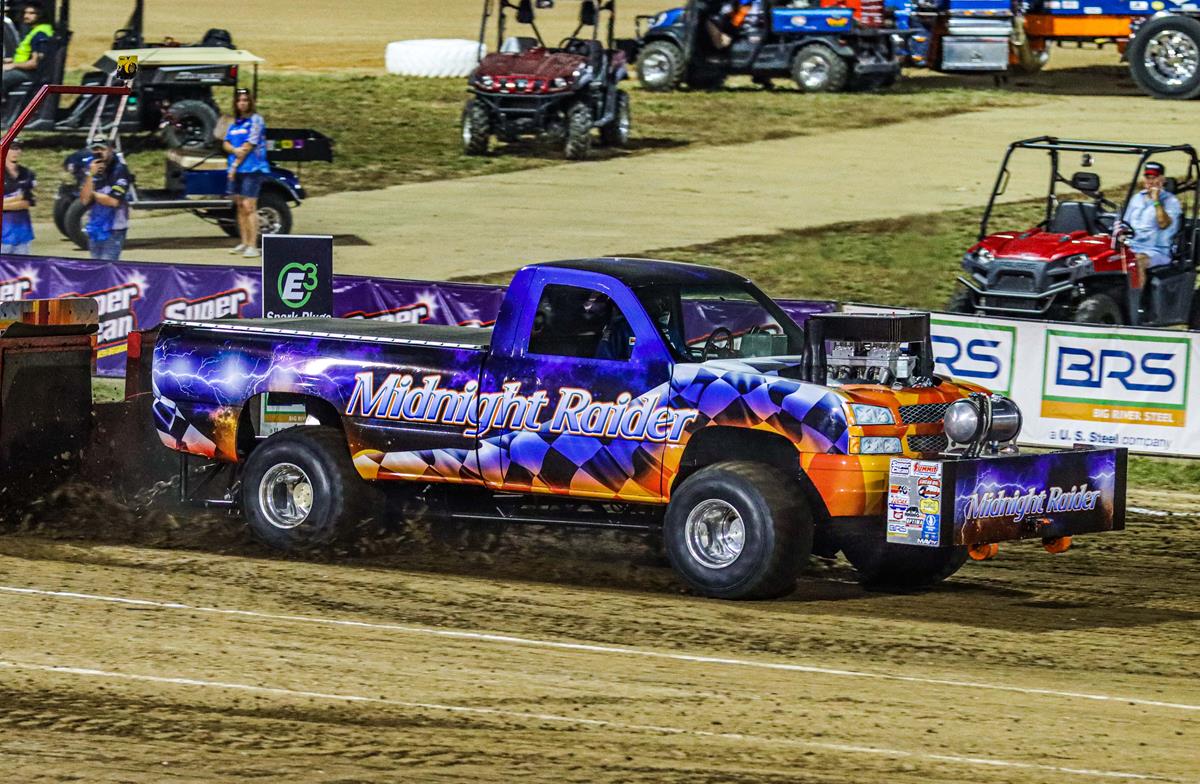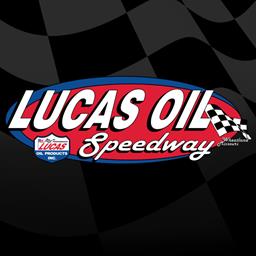 9/25/2022
Lucas Oil Speedway
---
Razor-close finish in Pro Mod 4WD Trucks headlines final night of Lucas Oil Pro Pulling Nationals
WHEATLAND, MO. (Sept. 24, 2022) - Jim Bosch in Midnight Raider made it a six pack of Pro Modified 4-Wheel Drive Trucks championships on the Lucas Oil Pro Pulling Series with a winning pull in Saturday's season finale, going 312.98 feet to top a closely bunched leader board.
The win came on the final night of the Lucas Oil Pro Pulling Nationals at Lucas Oil Speedway, where seven divisions were in action as the season came to a close. No division was closer than the Pro Modified 4 WD Trucks.
Bosch, of West Olive, Michigan, edged out Terry Hagedorn's Gun Powder & Lead by just two feet. The top seven pullers in the class were separated by just 4.73 feet. Bosch earned his second straight championship and sixth overall title.
"I'm telling you, we just hit our stride and had our stuff right tonight," Bosch said. "This is the way to do it, winning at the end."
Bosch noted a tough road to the latest title, with adversity along the way.
"We really thrashed," he said. "We blew up two motors this year. We put in a long August. We did a lot of work."
In other action on Saturday:
Blackbourn takes win, title in Unlimited Super Stock Tractors: Josh Blackbourn already had the Unlimited Super Stock Tractors championship locked up for a second straight year, but the Newton, Wisconsin, driver finished off the season in style with a victory in his division.
Career victory No. 20 saw Blackbourn pilot Considered Armed & Dangerous HD to a pull of 380.82 feet. That was a dominating 37 feet better than runner-up Jeff Hirt in Runnin' Bare.
"All year we've managed to stay consistent, but knew there was something missing," Blackbourn said, noting he was able to experiment with some things in the final run of the season with the points title locked up. "Coming into tonight with the points lead, we had some things we wanted to change and try and it sure worked out great.
"It's been a really special year. It was a lot of fun competing against Jeff. I'm just very humbled."
Super Farm Tractors win to Barman in Hooked Up: The Super Farm Tractor Hooked Up, driving by Brian Barman of Middleton, Wisconsin, earned a third win of the season and first at Lucas Oil Speedway in the Super Farm Tractors class.
Barman pulled 335.35 feet, 5.59 feet better than Jeremy Roberts in Wicked Whitetail.
"It's been running really good," Barman said of Hooked Up. "We've had a few hooks this year where we didn't finish very well, but we were pretty consistent."
Josh Miley had a sixth-place run in his High Maintenan$e, but that was enough to give the Francisco, Indiana, driver a repeat division championship.
Long takes Super Modified Tractor victory: Making the last pass of nine Big River Steel Super Modified Tractors, Keith Long in Lucas Oil Bullseye, took home the victory with a 335.69 pull. Long also was crowned the season champ in the division.
Long's winning run came in a second attempt after a blower belt came loose in his first try. Long, of Glasgow, Kentucky, pulled the sled 335.69 to beat out Shannon Leischner in Dirtslinger Too by four feet.
"That first pass, it throwed my two belts off. I don't know what we're doing wrong, but it made a fantastic second pass," Long said. "I was just pleased to win. This class has gotten so tough this year and we've had such an enjoyable time. It's been a great year."
Ricky Long of Glasgow, Kentucky, in the MAVTV tractor wound up eighth, but was the 2022 points champion.
River Rat prevails in Pro Stock Tractors: River Rat. driven by Kevin Masterson of Grandview, Ind., captured the Pro Stock Tractors win with a pull of 346.10. That beat runner-up Loud & Heavy, driven by Brandon Simon, by 3.22 feet.
Simon, of Farley, Iowa, took home the season championship for the second straight season and said "we had a good crew that helped make everything happen."
White and Addiction win Super Mod 2 WD Trucks: Michael White from Lafayette, Indiana, took a narrow victory in the Optima Batteries Super Modified 2 Wheel Drive Trucks. White edged out Loud & Low piloted by R.J. Simon by 3.52 feet. White also captured the season championship.
Holy Smokes scores Hot Rod Semis win: It was a convincing victory in the Mac Trailer Hot Rod Semi Truck division for Lonny Sailor in Holy Smokes. Sailor pulled 344.36 feet, a 36.24 margin over Hillbilly Deluxe driven by Spencer Rook.
Lucas Oil Pro Pulling League Nationals results
Super Farm Tractors
1, Hooked Up. Brian Barman, Middleton, Wis. 335.35
2, Wicked Whitetail, JD. Jeremy Roberts, Sullivan, Ind. 329.76
3, Thumpin Pumpkin, AGCO. Shane Masten, Niles, Ind. 328.88
4, Fast & Furious, JD. Don Slama, Lavalle, Wis. 328.80
5, Screamin Norwegian, IH. Shaun Boyd, Stoughton, Wis. 328.19
6, High Maintenan$e, IH. Josh Miley, Franciso, Ind. 326.78
7, Dime A Dozen, IH, Jerry Barrass, Marion, Ill. 326.27
8, 44, JD. Michael SNepp, Franklin, Ind. 325.83
9, Crop Doctor, IH. Jon Silsby, Union City, Tenn. 323.04
10, Running Buck Wild, JD. Andy Schwenk, Jasper, Ind. 320.19
11, Never Say Never, IH. Ft. Branch, Ind. 313.88
Unlimited Super Stock Tractors
1, Considered Armed & Dangerous HD. IH. Josh Blackbourn, Newton, Wis. 380.82
2, Runnin Bare, Case IH. Jeff Hirt, Port Clinton, Ohio. 343.81
3, Extremely Armed & Dangerous, IH, Terry Blackbourn, Newton, Wis. 342.55.
4, Ruttin Deer, JD. Bob Gansemer, Platteville, Wis. 340.02
5, Full Tilt. Massy. Mike Novinger, Shelbyville, Mo. 338.47
6, The Squealer, JD. Collin Meese, Oblong, Ill. 330.76
7, Field Forged. Scott Whitworth, Worthington, Mo. 328.32
8, Ruttin Deere 2, JD. Brandon Block, Pearl City, Ill. 321.41
9, Out of Time, JD. Aaron Hull, Waupun, Wis. 318.06
10, MMG 1000, MM. Aaron Hull, Waupun, Wis. 316.93
11, Eat N Dollars Alky Edition, David Esteb, Franklin, Ind. 238.69
12, Taking Care of Business, JD. Aaron Hull, Waupun, Wis. 143.04
Big River Steel Super Modified Tractors
1, Lucas Oil Bulls Eye. Keith Long, Glasgow, Ky. 335.69
2, Dirtslinger Too. Shannon Leischner, Weldon, Ill. 331.72
3, Dirtslinger. Bill Leischner, Weldon, Ill. 330.81
4, Irish Challenger 2.0. Dave Walsh, Mauston, Wis. 320.94
5, Optima Batteries Kentuckian. Wayne Sullivan, Warsaw, Ky. 314.40
6, Renk Seed Money Maker. Bret Berg, Farmington, Minn. 309.87
7, Takes a Lickin. Steve Bunnage, Golden Gate, Ill. 300.76
8, MAVTV. Ricky Long, Glasgow, Ky. 255.58
9, 4 Aces. Dave Walsh, Mauston, Wis. 121.97
Pro Stock Tractors
1, River Rat. Kevin Masterson, Grandview, Ind. 346.10
2, Loud & Heavy. Brandon Simon, Farley, Iowa 342.88
3, Tinker Toy. Kevin Masterson, Grandview, Ind. 340.89
4, Green With Envy. Allen Legrand, Madisonville, Ky. 336.15
5, Billet Binder, Jack Maize, Amity, Mo. 330.52
6, Loud & Loaded. Brandon Simon, Farley, Iowa 327.95
7, Agony of Defeat, Branson Simon, Farley, Iowa, 318.72
8, Loud & Heavy X. Brandon Simon, Farley, Iowa, 276.09
9, Revvalation Pro. Justin Johnson, Cottage Grove, Wis. 1.78
10, Young Blood. Brian Schramek, WIlliamsburg, Mo DQ
Pro Modified 4WD Trucks
1, Midnight Raider, Chevy. Jim Bosch, West Olive, Mich. 312.93
2, Gun Powder & Lead, Chevy. Terry Hagedorn, Thompson, Mo. 310.91
3, Runnin Wild, Ford. Charles Hinds, Quitman, Texas. 310.61
4, Southern Belle, Chevy. Steve Bost, Pocahontas, Ill. 310.60
5, Renegade, Dodge. Graham Young, Versatilles Ky. 309.49
6, Ratical, Chevy. Steve Clem, Versailles, Ky. 309.38
7, The Punisher, Chevy. Larry Jarrell, Gallipolis, Ohio. 308.20
8, Kickin Up Dust, Chevy. Terry Hagedorn, Thompson, Mo. 303.88
9, Just In Time, Chevy. Justin Grace, Versailles, Ky. 302.93
10, Time 2 Play, Chevy. Roger Gregg, Nokomis, Ill. 302.11
Optima Batteries Suepr Modified 2WD Trucks
1, Addiction, Chevy. Michael White, Lafayette, Ind. 344.19
2, Loud & Low. RJ Simon, Farley, Iowa. 340.57
3, Sawmill Express, Chevy. Tim Beaty, Jamestown, Tenn. 337.60
4, Sold Out. Jerry Wulfekuhle, Farley, Iowa. 337.07
5, Parts City Auto Parts, Chevy. Tony Tatum, Bardstown, Ky. 336.10
6, Midnight Revenger, Chevy. Jared Nelson, Altamont, Ill. 334.29
7, Sweet Revenge, Chevy. Bethany Nelson, Altamont, Ill. 333.98
8, Big Ed Red, Chevy. Brant Sullivan, Warsaw, Ky. 331.12
9, On the Edge, Ford. Russell Nichols, Lore City, Ohio. 330.53
10, Simon Sez Dodge, Dodge. Brad Wachob, Farley, Iowa. 330.37
11, Hi Maintenance, Chevy. Tony Fleming, Lamont, Iowa. 329.93
12, After Midnight, Chevy SSR. Misty Nelson, Sidney, Ill. 329.92
13, P5, Ford. Chad Mayhill, Reynolds, Ind. 329.05
14, Corn Burner, Dodge. Jason Sullivan, Edgewood, Iowa. 328.01
15, Apex. Will Teasley, Pleasant View, Tenn. 327.92
16, Simon Sez Chevy, Chevy. RJ Simon, Farley, Iowa. 327.55
17, Midnight Gambler, Dodge. Jeremy Nelson, Sidney, Ill. 326.31
18, 2 Timin, Ford. Chad Mayhill, Reynolds, Ind. 321.40
19, Lumber Jack. Donnie Sullivan, Warsaw, Ky. 317.52
20, In 2 Deep, Ford. Chaz Fleming, Lamont, Iowa. 303.46
21, Full Throttle, Chevy. Lisa Tatum, Bardstown, Ky. 288.88
MAC Trailer Hot Rod Semis
1, Holy Smokes, Peterbuilt. Lonny Sailor, Oak Park, Minn. 344.36
2, Hillbilly Deluxe, Peterbuilt. Spencer Rook, Jeromesville, Ohio, 308.12
3, Freightshaker, Freightliner. Colton Sailor, Princeton, Minn. 220.39
4, Playin' With Fire. Ryan Debroux, New Franklin, Wis. 0.60
5, Class Act. Keith McConahay. DQ
USRA Nationals next: Lucas Oil Speedway will take next weekend off before the 9th annual Summit USRA Nationals fires up a six-night run with practice on Monday, Oct. 3. USRA-sanctioned divisions for Modifieds, B-Mods, Stock Cars, Tuners, Hobby Stocks, Limited Mods, Late Models and Factory Stocks will be in action.
To purchase tickets for any event on Lucas Oil Speedway's schedule, or to inquire about camping information, contact Admissions Director Nichole McMillan at (417) 295-6043 or via email at nichole@lucasoilspeedway.com.
CONTACT:
Danny Lorton
Lucas Oil Speedway General Manager
Office: (417) 282-5984
DLorton@lucasoilspeedway.com
?
Complete Lucas Oil Speedway event information, archived race recaps, previews and driver features, along with ticket information and schedules can be found by visiting LucasOilSpeedway.com.
Lucas Oil Speedway is located at Highways 83 and 54 in Wheatland, Missouri. A campground with shower and bathroom facilities is also available. With its entrance located just outside the pit gate this sprawling scenic camping facility will continue to enhance the racing experience at the Diamond of Dirt Tracks.
Click LucasOilSpeedway.com for more information and detailed directions to the speedway or call the Track Hotline at (417) 282-5984. The Lucas Oil Speedway EZ Texting number is (417) 804-4141.
In addition, fans can get social with Lucas Oil Speedway by following @LucasSpeedway on Twitter, clicking "Like" at www.facebook.com/LucasOilSpeedway and on www.youtube.com/LucasOilSpeedway
About Lucas Oil Speedway
Lucas Oil Speedway is considered by fans, drivers and industry insiders to be one of the top five racing facilities in the nation. Located in Wheatland, Missouri, approximately an hour from Springfield, Missouri, and just an hour and a half from the Kansas City metro area, the "Diamond of Dirt Tracks" lives up to its title.
Twenty-One VIP Luxury Suites, HD Jumbo-Tron Screen, Stadium Style Musco Sports Lighting, a Bose Sound System, Go-Kart Slick Track, The Diamond Bar, Track Treasures Gift Shop, the best track food in the country and paved pits are a few of the spectacular amenities setting the Diamond of Dirt apart. This year marks the 12th season for the Liquid Quarter Mile Drag Racing Lake, "Lake Lucas." New for 2017 was all-purpose built Off Road facility featuring a host of regional events.
Lucas Oil Speedway's dirt oval track plays host to some of the largest and most-popular events in the Midwest with national and regional touring series appearing frequently including: The Lucas Oil Late Model Dirt Series, POWRi Midget National Series, Lucas Oil Pro Pulling League, United States Modified Touring Series, ASCS Sprint Cars and the Lucas Oil MLRA.
In addition to the special events, the Lucas Oil Speedway Weekly Racing Series features the Late Models, USRA Modifieds, USRA Stock Cars and USRA B-Mods.
2022 Official Lucas Oil Speedway Marketing Partners
Arizona Sport Shirts
"The Official Merchandise Provider" of Lucas Oil Speedway
Bill Roberts Chevrolet-Buick
"The Official Truck" of Lucas Oil Speedway
Dixie Chopper
"The Official Mowers of Lucas Oil Speedway"
General Tire
"The Official Tire" of Lucas Oil Speedway
Lucas Oil Products
"The Official Oil" of Lucas Oil Speedway
MAVTV
"The Official Television Network" of Lucas Oil Speedway
Optima Batteries
"The Official Battery" of Lucas Oil Speedway
Ozarks Coca-Cola/Dr. Pepper
"The Official Soft Drink" of Lucas Oil Speedway
RacingJunk.com
"The Official Classifieds" of Lucas Oil Speedway
Rugged Radios
"The Official 2-Way Communications Provider" of Lucas Oil Speedway
Sunoco Race Fuels
"The Official Fuel" of Lucas Oil Speedway
Super Clean
"The Official Sponsor" of Lucas Oil Speedway
2022 Lucas Oil Speedway Supporters Include:
AM Pyrotechnics, Arizona Sport Shirts, Ash Grove Aggregates, Berry Tractor and Equipment Co., Big Adventure RV, Bill Roberts Chevrolet-Buick, Bolivar Auto Sales & Detailing, Bolivar Farmers Exchange-MFA, Boone's BBQ Barn, Boubin Tire/American Racer, Branstetter & Lightfoot LLC, Bridal Cave, BWI Sanitation, Camden on the Lake Resort, Candlelight Creations-Dick's Wild Root Horseradish, Casey's, Cedar Creek Beef Jerky, Citizens Memorial Healthcare, City Magnet, Clearlight Inn, Comfort Inn-Bolivar, DirtonDirt.com, Dixie Chopper, eBay Motors, Eibach Springs, Evans Pipe & Steel Co., Farmers Insurance Agent Kristy Reynolds, Fast Shafts by Axle Exchange, Foley Equipment-Cat Rental Store, Frog Signs, Golden Valley Memorial Healthcare, Hermitage Lumber, HICKAMO Country Store, Highway 54 RV Park, Hobbytime Motorsports, Hoosier Race Tires, Impact Signs Awnings Wraps, In the Garden of Eden, Kettle Treats, Keyser Manufacturing, Kluhsman Racing Components, Kona Ice, Lucas Cattle Company, Margaritaville Lake Resort, Midwest Sheet Metal, Miller Welding, Missouri Department of Tourism, Missouri Division of Tourism, MyRacePass, Nutrien Ag Solutions, OakStar Bank, O'Bannon Bank, O'Reilly Auto Parts, Ozark Golf Cars, Ozarks Coca-Cola/Dr. Pepper, Ozarks Community Health Center, PEM, Pitts Homes, Pitts Realty, Pitts Cattle, ProThings Apparel, RACEceiver, Racinboys.com, RacinDirt.com, RacingJunk.com, Rains Ice Company, Real Racing Wheels, Rod End Supply, Ron Jenkins Accounting & Tax Service, Rugged Radios, Ryan E. Murphy Law Firm LLC, SBU Athletics, Safety Kleen, Scott Furniture, Simpson Racing Products, Southwest Electric Cooperative, Stillwater Resort, Sunoco Race Fuels, Sunflower Resort, TA/PETRO, US Army Corps of Engineers-Pomme de Terre, Vietti Marketing Group, Wheatland Motel, White's Marine Center, Wild Animal Safari, Woods Supermarkets, Wrisco Industries.
---
Article Credit: By Lyndal Scranton, Lucas Oil Speedway
Back to News