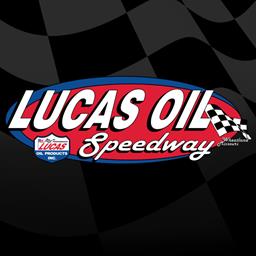 4/17/2022
Lucas Oil Speedway
---
Carthage driver Goodman takes over late to capture Enduro Easter Bowl 150 at Lucas Oil Speedway
WHEATLAND, MO. (April 16, 2022) - As its name would suggest, Enduro races reward those who successfully endure the marathon nature of the unique-style event.
Clay Goodman of Carthage outlasted 36 others Saturday night in the inaugural Enduro Easter Bowl 150 at Lucas Oil Speedway, coming home two laps in front of runner-up Troy Mitchell in the 150-lap feature.
"I'll get to keep that one forever," Goodman said in victory lane, after becoming the first winner of an Enduro race at Lucas Oil Speedway.
Goodman, who started 18th, earned $1,500 for the victory in the first racing event of the 2022 Lucas Oil Speedway season.
Predictably wild, the race for cars that are basically street-legal with some racing modifications for safety, was a free-for-all with bumping, banging and spins - but only one brief stoppage for a red flag. It took one hour, five minutes to complete and proved that the fastest was not necessarily the first to finish.
Mitchell, of Henley, Missouri, was a distant second and Jeremy Wilson of Humboldt, Kansas, wound up third after starting 33rd. Butch Knox of Sedalia was fourth and Scott Lampe of Fair Grove - who led a race-high 77 laps - wound up fifth.
Lampe had taken over the lead on lap 83 when Sims Nick spun after encountering a lapped car, appeared to have things going his way. But Lampe, who had Goodman a lap down, began to slow on lap 127 with steering issues.
Twice Lampe's car failed to corner properly in turn one and Goodman was able to take advantage and drive past on lap 133. He drove away from there to prevail.
"I really appreciate everybody that helped me out on this," Goodman said. "It feels pretty good. I didn't expect this to happen. I'm pretty happy."
Also in victory lane, Goodman said the car had all Lucas Oil products in it from transmission to engine. He added that the car had been sitting for six years prior to him purchasing it for this event.
Lampe drove into the lead on lap 83 as Sims Nick headed to the pits to change a flat tire. Sims returned, but three laps down, and Lampe soon had the entire field a lap down.
The race's lone red flag flew on lap 89 as Sean Steward rolled his car on the backstretch. He was able to drive it to the infield and the race resumed after a brief delay.
As the 37-car field took the green from a standing, three-wide start it was Kevin Perkins leading the opening lap and Butch Knox lap two.
Derek Lampe took command on lap three and held it until pulling into the pits with smoke pouring from underneath on lap 23 with Scott Lampe assuming the top spot.
LUCAS OIL SPEEDWAY UNOFFICIAL RESULTS (April 16, 2022)
Enduro Easter Bowl 150
32-Clay Goodman[18]; 2. 22-Troy Mitchell[17]; 3. 14-Jeremy Wilson[33]; 4. 1-Butch Knox[1]; 5. 179-Scott Lampe[12]; 6. 3-Kevin Perkins[2]; 7. 171-Eric Lampe[8]; 8. 83-Sims Nick[26]; 9. 56-Joey Prater[28]; 10. 6-Jeremy Jones[5]; 11. 412-Justin Lake[27]; 12. 06-Scott Symmonds[13]; 13. 11-Jeremy Polston[24]; 14. 42-Alex P Thomas[19]; 15. 17L-Rick Lampe[7]; 16. 174-Derek Lampe[9]; 17. 175-John Lampe[11]; 18. 32M-Michael Groesbeck[35]; 19. 1S-Rick Sharp[25]; 20. 203-George Turpin[34]; 21. 27-Payten Dinges[21]; 22. 6X-Eric Atwood[37]; 23. 777-Randall Calvert[22]; 24. 10-Josh Stringer[30]; 25. 85-Sean Steward[29]; 26. 2L-Tom Lampe[10]; 27. 2C-Kent Cruzan[31]; 28. 9-Darrin Crisler[14]; 29. 33-Michael Gillis[20]; 30. 5-Scott Benedix[4]; 31. 01-Dominick Dattoli[16]; 32. 54-Ken Snyder[6]; 33. 20-Justin Day[36]; 34. 85C-Brett Cox[3]; 35. 15T-Curt Turpin[15]; 36. 32D-Darrin Moyers[32]; 37. (DNS) 14M-Skyler Myers
MLRA Spring Nationals next up: The 9th annual Pitts Homes MLRA Spring Nationals are set for next Friday and Saturday, April 22-23. On night one, the Cedar Creek Beef Jerky USRA Modifieds and Show Me Vintage Racers also will be on the program. Night two will find Cedar Creek Beef Jerky USRA Modifieds, the O'Reilly Auto Parts USRA Stock Cars and the Ozark Golf Cars USRA B-Mods joining the MLRA Late Models.
The Big Adventure RV Weekly Racing Series Spring Opener opener is scheduled for April 30.
To purchase tickets for any event on Lucas Oil Speedway's schedule, or get ticket information for the Show-Me 100 or any future event at Lucas Oil Speedway, contact Admissions Director Nichole McMillan at (417) 295-6043 or via email at nichole@lucasoilspeedway.com.
CONTACT:
Danny Lorton
Lucas Oil Speedway General Manager
Office: (417) 282-5984
DLorton@lucasoilspeedway.com
?
Complete Lucas Oil Speedway event information, archived race recaps, previews and driver features, along with ticket information and schedules can be found by visiting LucasOilSpeedway.com.
Lucas Oil Speedway is located at Highways 83 and 54 in Wheatland, Missouri. A campground with shower and bathroom facilities is also available. With its entrance located just outside the pit gate this sprawling scenic camping facility will continue to enhance the racing experience at the Diamond of Dirt Tracks.
Click LucasOilSpeedway.com for more information and detailed directions to the speedway or call the Track Hotline at (417) 282-5984. The Lucas Oil Speedway EZ Texting number is (417) 804-4141.
In addition, fans can get social with Lucas Oil Speedway by following @LucasSpeedway on Twitter, clicking "Like" at www.facebook.com/LucasOilSpeedway and on www.youtube.com/LucasOilSpeedway
About Lucas Oil Speedway
Lucas Oil Speedway is considered by fans, drivers and industry insiders to be one of the top five racing facilities in the nation. Located in Wheatland, Missouri, approximately an hour from Springfield, Missouri, and just an hour and a half from the Kansas City metro area, the "Diamond of Dirt Tracks" lives up to its title.
Twenty-One VIP Luxury Suites, HD Jumbo-Tron Screen, Stadium Style Musco Sports Lighting, a Bose Sound System, Go-Kart Slick Track, The Diamond Bar, Track Treasures Gift Shop, the best track food in the country and paved pits are a few of the spectacular amenities setting the Diamond of Dirt apart. This year marks the 12th season for the Liquid Quarter Mile Drag Racing Lake, "Lake Lucas." New for 2017 was all-purpose built Off Road facility featuring a host of regional events.
Lucas Oil Speedway's dirt oval track plays host to some of the largest and most-popular events in the Midwest with national and regional touring series appearing frequently including: The Lucas Oil Late Model Dirt Series, POWRi Midget National Series, Lucas Oil Pro Pulling League, United States Modified Touring Series, ASCS Sprint Cars and the Lucas Oil MLRA.
In addition to the special events, the Lucas Oil Speedway Weekly Racing Series features the Late Models, USRA Modifieds, USRA Stock Cars and USRA B-Mods.
2022 Official Lucas Oil Speedway Marketing Partners
Arizona Sport Shirts
"The Official Merchandise Provider" of Lucas Oil Speedway
Bill Roberts Chevrolet-Buick
"The Official Truck" of Lucas Oil Speedway
Dixie Chopper
"The Official Mowers of Lucas Oil Speedway"
General Tire
"The Official Tire" of Lucas Oil Speedway
Lucas Oil Products
"The Official Oil" of Lucas Oil Speedway
MAVTV
"The Official Television Network" of Lucas Oil Speedway
Optima Batteries
"The Official Battery" of Lucas Oil Speedway
Ozarks Coca-Cola/Dr. Pepper
"The Official Soft Drink" of Lucas Oil Speedway
RacingJunk.com
"The Official Classifieds" of Lucas Oil Speedway
Rugged Radios
"The Official 2-Way Communications Provider" of Lucas Oil Speedway
Sunoco Race Fuels
"The Official Fuel" of Lucas Oil Speedway
Super Clean
"The Official Sponsor" of Lucas Oil Speedway
2022 Lucas Oil Speedway Supporters Include:
AM Pyrotechnics, Arizona Sport Shirts, Ash Grove Aggregates, Berry Tractor and Equipment Co., Big Adventure RV, Bill Roberts Chevrolet-Buick, Bolivar Auto Sales & Detailing, Bolivar Farmers Exchange-MFA, Boone's BBQ Barn, Boubin Tire/American Racer, Branstetter & Lightfoot LLC, Bridal Cave, BWI Sanitation, Camden on the Lake Resort, Candlelight Creations-Dick's Wild Root Horseradish, Casey's, Cedar Creek Beef Jerky, Citizens Memorial Healthcare, City Magnet, Clearlight Inn, Comfort Inn-Bolivar,DirtonDirt.com, Dixie Chopper, eBay Motors, Eibach Springs, Evans Pipe & Steel Co., Farmers Insurance Agent Kristy Reynolds, Fast Shafts by Axle Exchange, Foley Equipment-Cat Rental Store, Frog Signs, Golden Valley Memorial Healthcare, Hermitage Lumber, HICKAMO Country Store, Highway 54 RV Park, Hobbytime Motorsports, Hoosier Race Tires, Impact Signs Awnings Wraps, In the Garden of Eden, Kettle Treats, Keyser Manufacturing, Kluhsman Racing Components, Kona Ice, Lucas Cattle Company, Margaritaville Lake Resort, Midwest Sheet Metal, Miller Welding, MyRacePass, Nutrien Ag Solutions, OakStar Bank, O'Bannon Bank, O'Reilly Auto Parts, Ozark Golf Cars, Ozarks Coca-Cola/Dr. Pepper, Ozarks Community Health Center, PEM, Pitts Homes, Pitts Realty, Pitts Cattle, ProThings Apparel, RACEceiver, Racinboys.com, RacinDirt.com, RacingJunk.com, Rains Ice Company, Real Racing Wheels, Rod End Supply, Ron Jenkins Accounting & Tax Service, Rugged Radios, Ryan E. Murphy Law Firm LLC, SBU Athletics, Safety Kleen, Scott Furniture, Simpson Racing Products, Southwest Electric Cooperative, Stillwater Resort, Sunoco Race Fuels, Sunflower Resort, TA/PETRO, US Army Corps of Engineers-Pomme de Terre, Vietti Marketing Group, Wheatland Motel, White's Marine Center, Wild Animal Safari, Woods Supermarkets, Wrisco Industries.
---
Article Credit: By Lyndal Scranton, Lucas Oil Speedway
Back to News