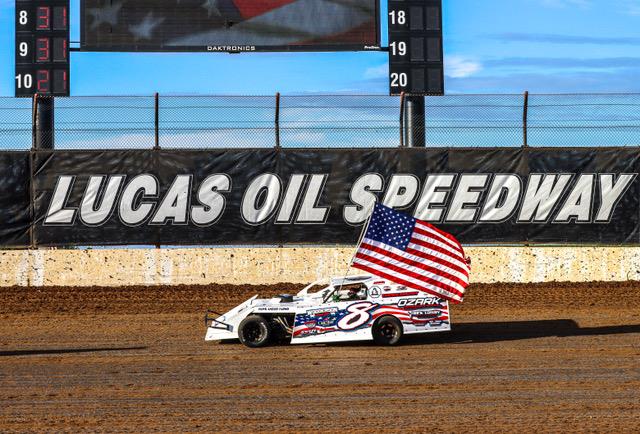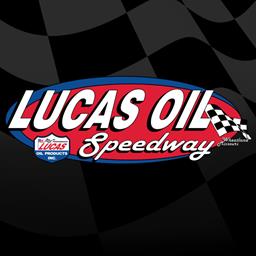 2/8/2022
Lucas Oil Speedway
---
Lucas Oil Speedway seeks National Anthem singers, Car Clubs, Midway Vendors for 2022 season
WHEATLAND, MO. (Feb. 8, 2022) - Lucas Oil Speedway is looking for people with great voices to help kick off racing nights during the upcoming season.
National Anthem singers are just one of several ways fans can get involved and become an integral part of the festivities during the 2022 season.
"Our opening ceremonies are a special part of the program," Lucas Oil Speedway General Manager Danny Lorton said. "Drivers presenting the American Flag as they slowly circle the speedway in their race cars as the Anthem is performed, it's a tradition that everyone enjoys.
"I know we have a lot of talented singers out there and we would love to have them on hand to help us get the race-night started by performing the Anthem."
Those interested can submit a demo recording to Lucas Oil Speedway administrative assistant Lisa Lorton by email at lisa@lucasoilspeedway.com.
Car, Motorcycle Clubs: Another activity that's been popular over the year is Car Clubs or Motorcycle Groups to show off their vehicles during a night at the races.
The speedway will publicize the appearance in pre-race press releases the week of the event. Clubs and their members need to arrive by 3 p.m. on race day as a group to set up on the Midway, behind the main grandstands.
Vendor spots available: Meanwhile, there also is room on the Midway for non-food and non-drink vendors throughout the season where businesses can sell their products.
Booth spaces are available in 10 x 10 foot, 10 x 20 and 10 x 30 sizes, with or without electric. There are spots available for one-day shows, plus two-day and three-day events. Prices start at $150 for the Big Adventure RV Weekly Racing Series events.
"Vendor spaces on the Midway, which has high foot traffic throughout the evening, is a great way for businesses to market their products to race fans," Danny Lorton said. "Now is the time to reserve a space, particularly if you have a specific race date in mind."
Vendor applications can be found on the speedway's website along with more details on spaces. For more information, contact the speedway office at (417) 282-5984.
Season openers: Lucas Oil Speedway has an open Test and Tune set for April 9 and another for April 16, followed by the "Easter Bowl 150" Enduro race on April 16 after that test and tune. The 9th annual Pitts Homes MLRA Spring Nationals are set for April 22-23. The Big Adventure RV Weekly Racing Series Spring Opener opener is set for April 30.
For ticket information for any future event at Lucas Oil Speedway, contact Admissions Director Nichole McMillan at (417) 295-6043 or via email at nichole@lucasoilspeedway.com.
CONTACT:
Danny Lorton
Lucas Oil Speedway General Manager
Office: (417) 282-5984
DLorton@lucasoilspeedway.com
?
Complete Lucas Oil Speedway event information, archived race recaps, previews and driver features, along with ticket information and schedules can be found by visiting LucasOilSpeedway.com.
Lucas Oil Speedway is located at Highways 83 and 54 in Wheatland, Missouri. A campground with shower and bathroom facilities is also available. With its entrance located just outside the pit gate this sprawling scenic camping facility will continue to enhance the racing experience at the Diamond of Dirt Tracks.
Click LucasOilSpeedway.com for more information and detailed directions to the speedway or call the Track Hotline at (417) 282-5984.
In addition, fans can get social with Lucas Oil Speedway by following @LucasSpeedway on Twitter, clicking "Like" at www.facebook.com/LucasOilSpeedway and on www.youtube.com/LucasOilSpeedway
About Lucas Oil Speedway
Lucas Oil Speedway is considered by fans, drivers and industry insiders to be one of the top five racing facilities in the nation. Located in Wheatland, Missouri, approximately an hour from Springfield, Missouri, and just an hour and a half from the Kansas City metro area, the "Diamond of Dirt Tracks" lives up to its title.
Twenty-One VIP Luxury Suites, HD Jumbo-Tron Screen, Stadium Style Musco Sports Lighting, a Bose Sound System, Go-Kart Slick Track, The Diamond Bar, Track Treasures Gift Shop, the best track food in the country and paved pits are a few of the spectacular amenities setting the Diamond of Dirt apart. This year marks the 12th season for the Liquid Quarter Mile Drag Racing Lake, "Lake Lucas." New for 2017 was all-purpose built Off Road facility featuring a host of regional events.
Lucas Oil Speedway's dirt oval track plays host to some of the largest and most-popular events in the Midwest with national and regional touring series appearing frequently including: The Lucas Oil Late Model Dirt Series, POWRi Midget National Series, Lucas Oil Pro Pulling League, United States Modified Touring Series, ASCS Sprint Cars and the Lucas Oil MLRA.
In addition to the special events, the Lucas Oil Speedway Weekly Racing Series features the ULMA Late Models, USRA Modifieds, USRA Stock Cars and USRA B-Mods.
2022 Official Lucas Oil Speedway Marketing Partners
Bill Roberts Chevrolet-Buick
"The Official Truck" of Lucas Oil Speedway
Dixie Chopper
"The Official Mowers of Lucas Oil Speedway"
General Tire
"The Official Tire" of Lucas Oil Speedway
Lucas Oil Products
"The Official Oil" of Lucas Oil Speedway
MAVTV
"The Official Television Network" of Lucas Oil Speedway
Optima Batteries
"The Official Battery" of Lucas Oil Speedway
Ozarks Coca-Cola/Dr. Pepper
"The Official Soft Drink" of Lucas Oil Speedway
RacingJunk.com
"The Official Classifieds" of Lucas Oil Speedway
Rugged Radios
"The Official 2-Way Communications Provider" of Lucas Oil Speedway
Sunoco Race Fuels
"The Official Fuel" of Lucas Oil Speedway
Super Clean
"The Official Sponsor" of Lucas Oil Speedway
2022 Lucas Oil Speedway Supporters Include:
Advanced Automotive Repair, AM Pyrotechnics, Angler's Resort, Arizona Sport Shirts, Ash Grove Aggregates, Ball Tree Service, Benton County Tire, Berry Tractor and Equipment Co., Big Adventure RV, Bill Roberts Chevrolet-Buick, Bolivar Auto Sales & Detailing, Bolivar Farmers Exchange-MFA, Boone's BBQ Barn, Boubin Tire/American Racer, Branstetter & Lightfoot LLC, Bridal Cave, BWI Sanitation, Camden on the Lake Resort, Candlelight Creations-Dick's Wild Root Horseradish, Casey's, Cedar Creek Beef Jerky, CED Electric, Central Life Sciences, Citizens Memorial Healthcare, City Magnet, Clearlight Inn, Comfort Inn-Bolivar,DirtonDirt.com, Dixie Chopper, eBay Motors, Eibach Springs, Evans Pipe & Steel Co., Farmers Insurance Agent Kristy Reynolds, Fast Shafts by Axle Exchange, Foley Equipment-Cat Rental Store, Frog Signs, Golden Valley Memorial Healthcare, Heritage Tractor Inc., Hermitage Lumber, HICKAMO Country Store, Highway 54 RV Park, Hobbytime Motorsports, Hoosier Race Tires, Impact Signs Awnings Wraps, In the Garden of Eden, Kettle Treats, Keyser Manufacturing, Kluhsman Racing Components, Kona Ice, LimeBank, Lucas Cattle Company, Margaritaville Lake Resort, McCoy Logging LLC, Merck Animal Health, Midwest Sheet Metal, Miller Welding, Missouri Land Co. LLC, MyRacePass, Nutrien Ag Solutions, OakStar Bank, O'Bannon Bank, O'Reilly Auto Parts, Ozark Golf Cars, Ozarks Coca-Cola/Dr. Pepper, Ozarks Community Health Center, PFI Western Store, Pitts Homes, Pitts Realty, Pitts Cattle, ProThings Apparel, RACEceiver, Racinboys.com, RacinDirt.com, RacingJunk.com, Rains Ice Company, Real Racing Wheels, Rod End Supply, Ron Jenkins Accounting & Tax Service, Rugged Radios, Ryan E. Murphy Law Firm LLC, SBU Athletics, Safety Kleen, Schlesselman Fencing, Scott Furniture, Sidetrack RV Park, Simpson Racing Products, Southwest Electric Cooperative, Square B Ranch, Stillwater Resort, Stover Milling, Sunoco Race Fuels, Sunflower Resort, Superior Products, TA/PETRO, Transportation Distribution Co. (TDC), US Army Corps of Engineers-Pomme de Terre, Vietti Marketing Group, Wheatland Motel, White's Marine Center, Wild Animal Safari, Windsor Livestock Auction, Woods Supermarkets, Wrisco Industries, ZINPRO Performance Minerals.
---
Article Credit: By Lyndal Scranton, Lucas Oil Speedway
Back to News