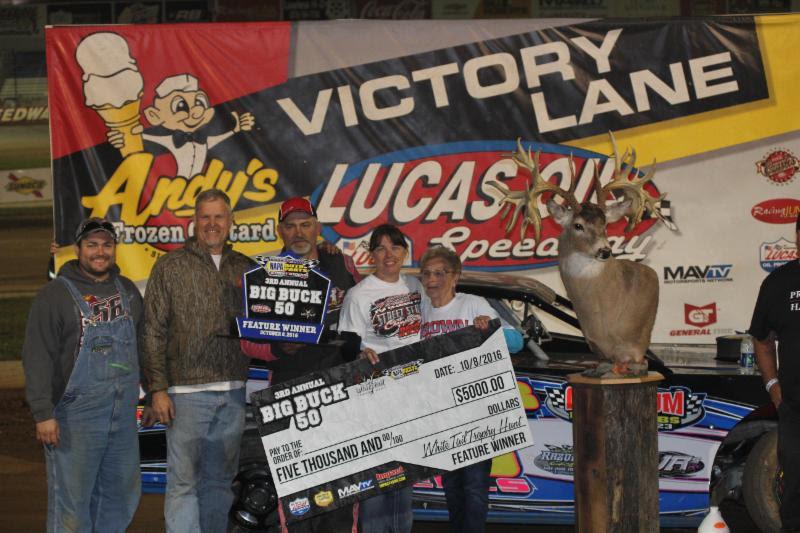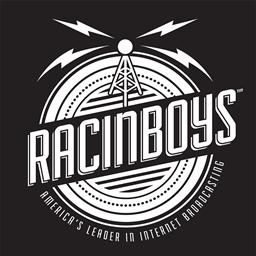 ---
Lucas Oil Speedway Big Buck 50 victor Tim Brown cashes in during Whitetail Trophy Hunt
By Lyndal Scranton (Wheatland, MO) — For Tim Brown, his October win in the Big Buck 50 Street Stock Special Presented by Whitetail Trophy Hunt is the victory that keeps on giving.
Not only did the veteran Stoutland, Missouri, driver earn $5,000 when he defeated 92 other Street Stock drivers at Lucas Oil Speedway, he earned a free entry – valued at nearly $3,000 – in the Whitetail Trophy Hunt. During last weekend's hunt in the Lake of the Ozarks area, he bagged a buck that wound up in ninth place among 189 hunters, good for another $2,000.
"You go and hunt and make money. How is that not a good deal?" Brown said.
Brown also won another free entry into the 2017 Whitetail Trophy Hunt. While his biggest previous win on the race track was a $10,500 prize for a race win at Batesville (Ark.) Speedway, Brown figures this prize package is worth at least $13,000.
PHOTO: Tim Brown earned $5,000 and a free Whitetail Trophy hunt for his win in the Big Buck 50 Street Stock Special Presented by Whitetail Trophy Hunt–CREDIT: Chris Bork photo
"The $5,000 to win the race and a $3,000 hunt, then I won a $3,000 hunt again next year and won $2,000 for (ninth place)," Brown said. "Then next year, it might keep totaling up. It's a pretty good deal."
It's the kind of scenario that Craig Danuser of Whitetail Trophy Hunt envisioned when he and Lucas Oil Speedway General Manager Dan Robinson put together the first Big Buck 50 in 2015. While this year's race drew 93 Street Stock entries, Danuser looks to easily bust into triple-digits next year.
First place in the Whitetail Trophy Hunt is worth $15,000 with $7,500 for second.
"It couldn't have worked out any better for us, or for Lucas Oil Speedway, by Timmy winning," Danuser said. "We'll have everybody at the Big Buck 50 and their brother wanting to come and win that deal next year. Timmy's won $13,000 in cash and prizes and that's still counting because he has next year's hunt for free.
"My goal is we'll have 125 entries, for sure, next year," Danuser said. "We want to build this as the biggest Street Stock race in the United States."
Brown said the hunt was held within a mile or two of where he was born, making the experience even more special.
"I knew the territory, though I had never been on this White Tail hunt," Brown said. "I ended up hunting where I basically grew up hunting as a kid. It was a pretty neat deal."
This was the 28th year for the Whitetail Trophy Hunt. For more information about the 2016 hunt or to get entry info for 2017 set for Nov. 11-13, go to whitetail.net or call 1-800-633-4868.
For complete Lucas Oil Speedway event information, archived stories, ticket info and schedule information for the season, visit lucasoilspeedway.com. The 2017 season begins April 8 with the first Weekly Championship Series event.
Lucas Oil Speedway is located at Highways 83 and 54 in Wheatland, Missouri. A campground with shower and bathroom facilities is also available. With it's entrance located just outside the pit gate this sprawling scenic camping facility will continue to enhance the racing experience at the Diamond of Dirt Tracks.
Click www.LucasOilSpeedway.com for more information and detailed directions to the speedway or call the Track Hotline at (417) 282-5984.
In addition, fans can get social with Lucas Oil Speedway by following @LucasSpeedway on Twitter, clicking "Like" at www.facebook.com/LucasOilSpeedway and on www.youtube.com/LucasOilSpeedway.
---
Submitted By: Kirk Elliott
Back to News