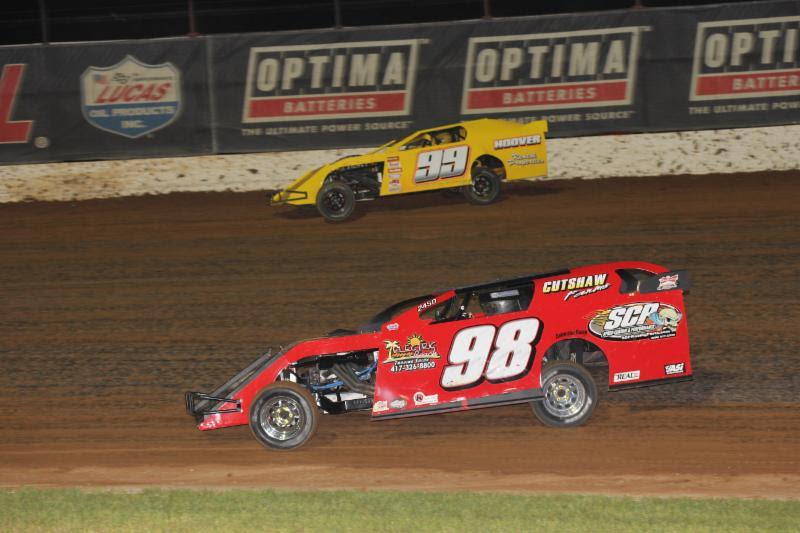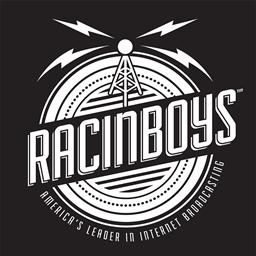 ---
Cutshaw celebrates third Lucas Oil Speedway title
(Wheatland, MO) — The end result might not suggest it, but Jeff Cutshaw claims the Lucas Oil Speedway Pitts Homes USRA Modified Track Championship is not necessarily in his scope at the beginning of the season.
"Not really. We go to race to have a good time and the points just follow along," Cutshaw said.
The formula has worked with devastating domination as the ultra-consistent Bolivar driver has celebrated three straight USRA Modified championships, the 2016 edition by a whopping 178-point margin over runner-up Jason Pursley of Hermitage.
Cutshaw posted three wins and five second-places finishes in 19 races, turning the points chase into a runaway by the season's second half. The two-decade racing veteran called it a total team effort with the best part of the three-peat the reward for crew members Billy Mitchell, Andrew Miller and Michael Miller.
PHOTO: Jeff Cutshaw (98) won his third straight Lucas Oil Speedway USRA Modified championship by 178 points over runner-up Jason Pursley–CREDIT: Chris Bork photo
"We try to focus on finishing every race," Cutshaw said. "That's the only thing when you're points racing, just the consistency more than anything else. I think we kind of gave away some races that we maybe could have been more aggressive at, that we would have maybe won if we had pushed the issue a little harder.
"I mainly race the points deal for my pit crew guys more than anything else. That's real important to them and gives them a sense of accomplishment."
Mitchell houses the car at his shop during the week. Cutshaw said he just shows up at the track on Saturdays, makes some minor tweaks and goes racing.
"He takes really good care of it," Cutshaw said of Mitchell. "That way, you can concentrate on other stuff. That means a lot. Those guys deserve an awful lot of credit. They sure make my life a lot easier.
"I get the thrill of getting in the drivers' seat and running around. They do all the hard work."
Asked how this championship compares to the others, Cutshaw said his one might have been a little harder. It certainly was different after the midseason month-long suspension of second-place Eric Turner for a tires violation widened the gap.
"That don't make it any more satisfying," Cutshaw said. "That actually took away from the points because of that. The challenge wasn't really there. Not that Pursley didn't put up a good challenge. We were just so far ahead of him it was hard for him to catch back up.
"I think we just kind of consistently … we had so many top-five finishes. We were top-five every night except two."
Cutshaw's sponsors include SCP Racing Engines out of St. Louis along with his wife's businesses, The Look Salon and Electric Beach Tanning Salon in Bolivar.
"They built us great motors," he said of SCP. "For the last three years, we've won championships with their motors and never had a failure."
Thoughts already have turned toward a fourth straight Lucas Oil Speedway championship. Cutshaw plans to return with the same car and motor package and already had put a new body on the car going into the winter.
"We're looking to travel a little more" in 2017, Cutshaw said. "I changed jobs about four months ago. I'm working a little closer now. We might run Humboldt on Friday, do a little more traveling and maybe hit a few more races next year.
For complete Lucas Oil Speedway event information, archived stories, ticket info and schedule information for the season, visit lucasoilspeedway.com. The 2017 season begins April 8 with the first Weekly Championship Series event.
Lucas Oil Speedway is located at Highways 83 and 54 in Wheatland, Missouri. A campground with shower and bathroom facilities is also available. With it's entrance located just outside the pit gate this sprawling scenic camping facility will continue to enhance the racing experience at the Diamond of Dirt Tracks.
Click www.LucasOilSpeedway.com for more information and detailed directions to the speedway or call the Track Hotline at (417) 282-5984.
In addition, fans can get social with Lucas Oil Speedway by following @LucasSpeedway on Twitter, clicking "Like" at www.facebook.com/LucasOilSpeedway and on www.youtube.com/LucasOilSpeedway.
---
Article Credit: Lyndal Scranton
Submitted By: Kirk Elliott
Back to News