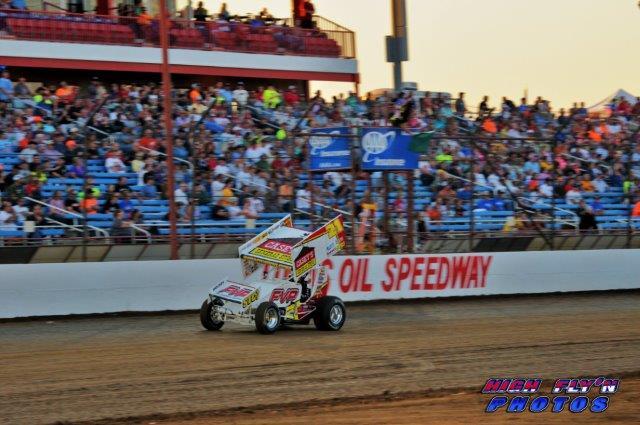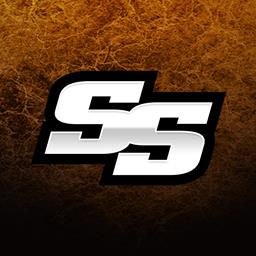 ---
Brian Brown – Rare Week Off!
Brian Brown – Rare Week Off!
(Bill W) October 1, 2014 – Brian Brown and the Casey's General Stores/FVP #21 team were looking for their first win in the Jesse Hockett/Daniel McMillin Memorial last weekend at the Lucas Oil Speedway near Wheatland, Missouri. Unfortunately, things didn't go as planned with the team finishing seventh in the finale. This week finds the Grain Valley, Missouri driver with a rare week off, though he will be helping promote FVP products at the Kansas Speedway.
In Friday's prelim, things got off to a slow start in the heat.
The track was pretty narrow, especially for the heats. We didn't get the best start in the world, and we ended up going from fifth to fourth. When you start fifth, you need to finish second or third, so we were behind the 8-ball all night. There were some drivers who moved up, but you had to do it early.
That put you in the B main.
At that time, you're just worried about how you are going to make the show. We worked on the car and made it a little better. We were able to go from fifth to second and that was good.
In the feature, you started 20th and moved up to 13th.
We knew it was going to be tough. The track was getting a little slicker than it had been. I think at one time, we were up to tenth or so, but everyone was kind of held up together. If your line got held up, the other one was moving. It definitely wasn't what we wanted in a race of that magnitude. We wanted to at least be towards front, but we weren't able to do that.
Things got off to a good start in Saturday's finale when you won the heat (from second).
You definitely need to be in the redraw for a chance to win those races. We were able to win our heat, which was good. It was a really tough heat. At that time, we were hoping to get in the redraw, but we missed it by one.
That put you inside row five for the feature.
They did a good job all night long with the track, I felt. They went out and reworked it before the feature, but I wish they would have worked it in a little before we went green. It was pretty slimy the first eight or ten laps.
How did it go in the early going?
We jumped right to sixth there pretty quickly. If we had a chance at winning, I felt like we needed to make a bold move there early on. We needed to make something happen. We tried to jump to the outside and really lost everything we gained.
You ended up seventh at the checkers.
We could have stayed in line and finished a couple spots further up, but fifth, seventh, ninth, fourth, it doesn't really matter in a race we want to win that badly. We came up short. We didn't seem to have the speed we usually have there, and we don't know why. We'll look at our notes and go back next year, and hopefully have a little better results.
What's the game plan for the next couple weeks?
We have some obligations with FVP this week at the Kansas Speedway. We'll be back next week at either I-80 Speedway with the Nebraska 360 Sprints or over in Illinois with MOWA.
Follow Brian on the Web, Twitter and Facebook!
Follow Brian at his website located at www.BrianBrownRacing.com!
Also keep up with FVP, Casey's and Brian on Facebook and Twitter at the following links…
Twitter Links – @BrianBrown21, @FVPRacing, @CaseysGenStores
Facebook Links
Brian Brown Racing – www.facebook.com/pages/Brian-Brown-Racing/200630163294222
Casey's General Stores – www.facebook.com/pages/Caseys-General-Stores/112073528804354
FVP Racing - http://www.facebook.com/FVPRacing?ref=ts&fref=ts
Other Web site info
Casey's: www.caseys.com
FVP: www.fvpparts.com
Brown's Bits
Brian ripped off three wins back in 2010 between July 2 and 21. His wins came at the I-80 Speedway near Greenwood, Nebraska, the Boone County Fair Speedway in Albion, Nebraska and the Crawford County Speedway in Denison, Iowa. His win at Denison came in ASCS-Midwest action ahead of Lee Grosz, Bronson Maeschen, Clint Garner and Jon Agan.
15% off of Enco Tools Purchase!
Receive 15% off of your order with Enco Tools! Just go to www.UseEnco.com and use the coupon code "BBR21"!
About Casey's General Stores
Casey's General Stores is a Fortune-500 company (NASDAQ CASY) operating nearly 1700 convenience stores in 11 states through the Midwest. Known for its "Homemade-To-Go" pizza, sandwiches, donuts and bakery items, Casey's strives to consistently deliver quality gas, fresh kitchen-prepared food, clean environments and friendly service at every retail location. Casey's is currently the 12th largest c-store chain and sixth largest pizza chain in the United States.
About FVP
We are very excited to introduce our new line of automotive chemicals, oils and fluids to our product offering. These new products will be available at many retailers across the country. We continue to offer a full line of high quality oil, air, cabin air and fuel filters, plus a complete line of high quality batteries for multiple applications including cars, trucks, SUV's, commercial and other specialty vehicles. All products are made to OE manufacturer fitment specifications. FVP products are engineered to provide our customers with quality products that are equal or superior in performance to the major national brands at a competitive price. To learn more about our FVP products or to find out where you can have FVP products installed in your vehicle, visit us at www.FVPparts.com! FVP…The Confident Solution
Marketing Partner of the Week – Housby Trucks
Brian says, "Jack, Kelly and Kevin Housby have been great to me since I was in the Casey's car. They have provided our truck, and they do great service on trucks in the Des Moines area."
Since 1969, Housby has been known for the quality of new and used trucks they sell and their excellent customer service. What started out primarily as a Mack Truck dealership has grown into a conglomerate of vertically integrated businesses that share synergy by bringing multiple services to their customers. Businesses include Housby Mack, Inc., Housby Mixer Group, Housby Truck Lube, Vocon Remarketing, Second Generation and Housby Motorsports. Visit www.Housby.com for more information!
Associate Marketing Partner of the Week – Racing Optics
Brian says – "Bart at Racing Optics is one of the smartest guys in sprint car racing. He came up with the laminated tear-off. Looking through ten is like looking through one, and they sure help on those nights where the track is heavy."
Headquartered in Las Vegas, Nevada, Racing Optics is the world's largest manufacturer of laminated tear-offs for Auto Racing Helmets, Motorcycle racing Helmets, helmet shield protectors and NASCAR windshield tear-offs. Racing Optics also makes Laminated Tear-offs for Police and Military applications along with Medical and Industrial applications. Racing Optics has you covered from professional racers to professional law enforcement. Take some time to view all of their products at www.RacingOptics.com, and you might be surprised to see what else they do!
Brian Brown Racing would like to thank Casey's General Stores, FVP, Searsboro Telephone Company, MC Power, Impact Signs Awnings Wraps / impact4800.com, Champion Brands, DNA Energy, Ditzfeld Transfer, Maxim Racing, Smiley's Racing Products, Enco Tools, Weld Wheels, Housby Trucks, www.RateWin.com, Arctic Cat, K&N, www.hostiowa.net, FSR Race Products, TI64, Fuel-Safe Tanks, Wolfe Eye Clinic, Bell Helmets, Hinchman, CP Pistons, Carrillo Rods, Vortex Wings, Penray, All Pro Cylinder Heads, Butler Built Seats, AkzoNobel, Kenny's Components, www.AllDayParts.com, Tru Square, Jack Links, Deli Express, Snap-On Tools, Rod End Supply, KSE Racing Products, Winters Performance, Cometic Gaskets, Shell Shock, Donovan, ISC Racers Tape, Kinsler Fuel Injection, Racing Optics, Mothers Wax, Hoosier Tires, Klein RV, XYZ Machining, Brown and Miller Racing Solutions, Red Devil Brakes, Schoenfeld Headers, 6B Apparel, Bosch, Garrett Racing Engines, MSD, Moyle Racing Engines, Fortress Wealth Management, Legacy, Flexzilla and WSIB Insurance for all their support!
---
Article Credit: Bill Wright
Back to News