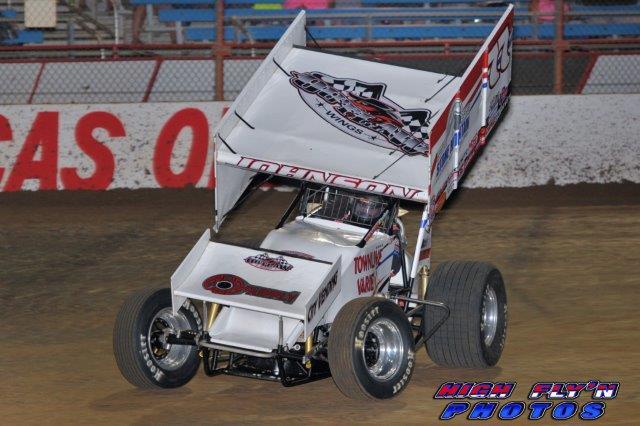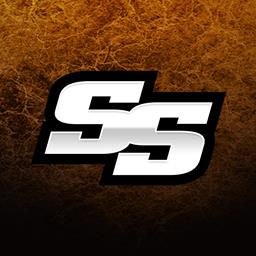 ---
Wednesdays with Wayne – Speed Continues in Wheatland!
Wednesdays with Wayne – Speed Continues in Wheatland!
(Bill W) October 1, 2014 – The Wayne Johnson Racing #77x team was fast again last weekend at the Jesse Hockett/Daniel McMillin Memorial at the Lucas Oil Speedway near Wheatland, Missouri. A second place in Friday's prelim was followed by a run up front in the finale, before an accident ended the night. Wayne will take this week off before heading east for 410 action next week.
Wayne started fourth in his heat on Friday. "We were able to get to second," he says. "(Sam) Hafertepe was a little better in the heat race, but I was moving around, trying to find out where I was better. I was actually trying to protect a little bit too, because I knew fourth to second would get us in the redraw."
He would draw outside row one to the start the feature. "(Tim) Crawley got me on the start," says Wayne. "The outside was slick where I was starting. He actually kind of messed me up going into one. He's a bottom guy, and I thought he'd be down there, but he entered in front of me on the top. He got away from me there for a little while."
Wayne was strong in the middle stages of the race. "I started trying the bottom and tried this, that and the other and let Jeff Swindell by me," he says. "I was third there for a while. It looked like those guys were getting loose at the end, and my car was really coming around. I just stuck with the top and ran them both back down."
There was one last shot at the win. "I was able to get by Jeff, and I thought I had a shot at Crawley coming to the checkered," says Wayne. "I was riding the top and a lapped car was running the top slower than I needed to go. We settled for second. I was happy to be locked in, because normally we are horrible at that place."
Locked into Saturday's finale, Wayne would draw the pole. "Hafertepe and I were on the front row," he says. "They tilled the track up and didn't let us hot lap or anything. I didn't know what to expect, but the top is usually better there. Going into one, I got the jump on Hafertepe and went to the top. When I did that, Swindell went by us both on the bottom. Right away, I knew the bottom was better in one and two."
He would set his sights on the leader. "I stuck with the top a little bit to see if I could stay with him," says Wayne. "I could stay with him in one and two, but not three and four, so I got to moving around. Anytime I went to the bottom, I reeled him back in. I couldn't pass him down there, so I started moving around a little."
Wayne sensed another big win. "About the time we got to lapped traffic, I could tell right away he was struggling," he says of Swindell. "My car was getting better every lap. I was running the bottom of one and two and the top of three and four mostly. Coming off of two on lap sixteen, I was making the transition from the bottom to the top. Derek Hagar got into the back of me there early on the backstretch. That spun me sideways and stuck me in the fence. I don't know if he didn't see me or what, but he ran right into the rear bumper and tail tank."
The crash was disappointing when the car was running so well. "It really stinks, because I knew we had the car to beat," says Wayne. "I was kind of riding there figuring out where I needed to be later in the race. It's a shame that we wrecked, because our racecar has been so good lately that I can do that. Normally, you don't know what you're going to have at the end, so you make a move to the lead right away. You still want to get to the lead, don't get me wrong, but I was at the point where I could move around and figure where the leader's weaknesses were and make a plan. I just kept getting better and better. It was crazy. Unfortunately, we tore up a lot of stuff."
Follow Updates on Facebook!
Wayne will update as his race night commences at his Facebook page. Find it by searching for Wayne Johnson Racing or clicking the following link…
http://www.facebook.com/#!/WayneJohnsonRacing
Outlaw Wings – "The Wing with an Attitude"
Check out the new "recessed rivet" design put out by Outlaw Wings. Talk to Wayne about purchasing Outlaw Wings for your car! Outlaw Wings – "The Wing with an Attitude"!
Wayne's Fast Facts
On April 3, 2004, Wayne won in ASCS-Sooner action at the Caney Valley Speedway in Caney, Kansas. The late great, Jesse Hockett, ran second ahead of Jason Martin, Sean McClelland and Andy Shouse.
Partner of the Week – Xtreme Accu-tach
Know how your engine is performing with Xtreme Accu-tach!
When the display button is pushed after your last race, the Accu-Tach will display four numbers:
1st number is the highest RPM turned in the last race
2nd number is the low average RPM turned in the last race
3rd number is the high average RPM turned in the last race
4th number is the time in seconds your engine took to rev from your low average RPM to your high average RPM
The display button has three different functions:
Starts the display cycle of highest RPM, average low RPM, average high RPM and ramp time
Resets any stored information if held for more than five seconds
Displays the engine's current RPM for fifteen seconds while engine is running
Visit them at www.SafetyFirstUSAInc.com!
"Wednesday's with Wayne"
"Wednesday's With Wayne" is an up close look at the past, present and future of colorful and talented sprint car driver Wayne Johnson. You'll never know what to expect next with Wayne, so don't miss us on Wednesdays!
To receive "Wednesday's with Wayne", send an e-mail to sprntcar@hotmail.com with"Wayne" in the subject line.
Wayne Johnson Racing would like to thank partners, Todd Carlile, Vern Rengen, Miles with Townline Variety, Russell with Outlaw Wings, Ray with City Vending, Scott with Stone Mountain Access Systems and product sponsors Bill with The Oil Medics, Byron with Sebastian Sandblasting & Powdercoating, Shawna and Kaleb with Triple X Race Components, Bob with Rod End Supply, Dave with Astro Titanium, Mark and Doug with Schoenfeld Headers, Desiree at Simpson, Jeannie at Butlerbuilt, Tom at Xtreme Accu-Tach, Carl with Kustom Sprint Car, Brad with Momentum, Charlie with Fisher Racing Engines, Team Achieve and Tim with Canyon Apparel.
---
Article Credit: Bill Wright
Back to News