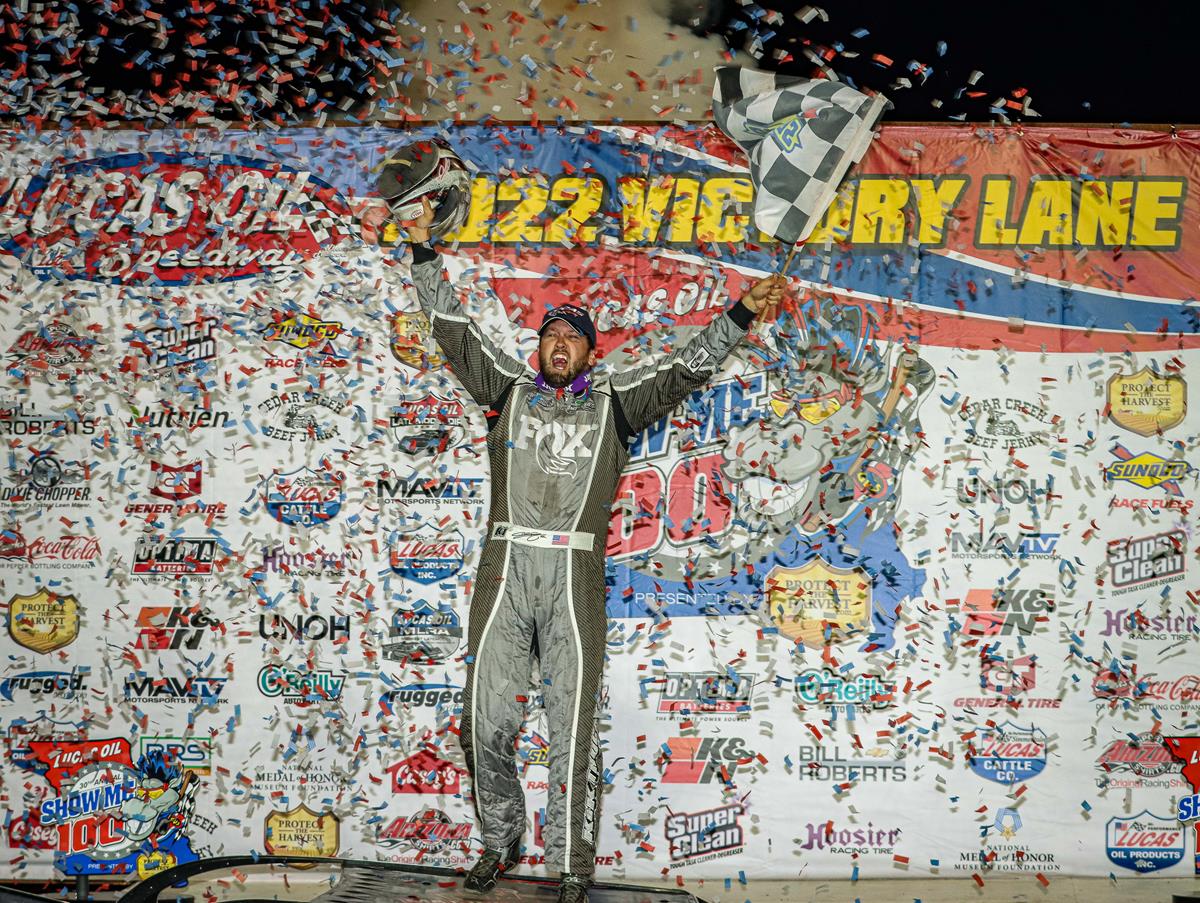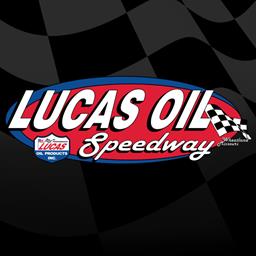 11/3/2022
Lucas Oil Speedway
---
Diamond Dozen: Looking back at 12 top moments of the 2022 Lucas Oil Speedway season
WHEATLAND, MO. (Nov. 3, 2022) - With another great season in the books at Lucas Oil Speedway, it's time for our annual look back at some of the top races, moments and storylines from the 2022 season. Here's our "Diamond Dozen" as compiled by track Public Relations Director Lyndal Scranton and the Lucas Oil Speedway staff:
1 - Ferguson celebrates Show-Me 100 triumph: The season's biggest race saw Chris Ferguson join the prestigious club of Dirt Late Model crown-jewel winners as he captured the 30th annual Show-Me 100 Presented by ProtecttheHarvest.com.
The Mount Holly, North Carolina driver grabbed the lead from Jonathan Davenport with 12 laps remaining in the Memorial Day Weekend event and earned a race-record $50,000 by finishing 3.04 seconds in front of runner-up Ricky Thornton Jr.
"Oh man, I don't know what to say. I'm speechless," Ferguson said in victory lane after the Lucas Oil Late Model Dirt Series win, in front of an estimated 8,000 fans. The evening began as country music star Aaron Tippin, serving as Grand Marshal, performed the National Anthem.
"God is so great. He put me in this situation. That was awesome," Ferguson added. "This is amazing and I'm so thankful to be here."
The 32-year-old Ferguson, who captured the 2020 Diamond Nationals in his first visit to Lucas Oil Speedway, became the 18th different winner of the Show-Me 100. Third place went to Tim McCreadie and four-time Show-Me 100 winner Jimmy Owens finished fourth.
2 - Johnny Scott shines at Diamond Nationals: Johnny Scott took command on lap two of the 16th annual CMH Diamond Nationals Presented by Summit Racing Equipment and never gave up the lead - even as four-time race winner Jimmy Owens made a frantic late charge.
It was enough to make Scott plenty anxious, with Owens closing in and with lapped traffic to navigate on the final circuit around Lucas Oil Speedway on July 16.
But Scott, of Las Cruces, New Mexico, held on to beat Owens by .678 seconds in a caution-free 50 laps that clicked past in just 14 minutes, 32 seconds.
Scott, a one-time nationally renowned Modified ace, earned $15,000 and a diamond ring for the biggest victory of his Lucas Oil Late Model Dirt Series and Lucas Oil MLRA career.
"It's a heck of a night," Scott said in victory lane. "I've been trying so hard to win these Lucas Oil races. It just feels good to get one."
3 - USRA Nationals return for week-long festival: With more than 300 cars in eight divisions overflowing the pits, the 9th annual Summit USRA Nationals expanded to five nights following a practice night in early October.
Highlighting the action were the top modified divisions as Tyler Wolff of Fayetteville, Arkansas, dominated the week in the USRA Modifieds and Ryan Gillmore of Springfield was the strongest from start-to-finish in the B-Mods.
The final night saw Wolff lead all 40 laps to earn a decisive feature victory. Wolff swept his qualifying races earlier in the week, started on the pole and drove to a three-second victory over runner-up Kevin Stoa. Wolff took home $4,000 for his eighth feature victory of 2022.
Gillmore also topped off a perfect week by leading the USRA B-Mod championship feature all 35 laps, posting his second career USRA Nationals triumph. Gillmore won all four of his qualifying heats plus the Summit Shootout earlier in the week. Gillmore held off Brandon Hare for the victory, his 13th of the season. He took home $2,000.
Other winners were Dylan Thornton (Stock Cars), Brad Stahl (Tuners), Rowdy Day (Limited Mods), Kory Ressie (Late Models), Craig Pursley (Factory Stocks) and Dylan Clinton (Hobby Stocks).
4 - Make it a record seven for Jackson: In a race that summed up a season-long battle between the top two Ozark Golf Cars USRA B-Mod drivers, Kris Jackson of Lebanon held off Ryan Gillmore by half a second for his fifth feature win of the season on July 23.
"I could hear him that whole race," Jackson said of Gillmore. "I don't know if he was trying the outside lane or not, but I knew if I made one little bobble he'd be there."
Jackson, who debuted a new J2 Chassis in 2022, went on to earn his record seventh Lucas Oil Speedway track championship with six feature victories and 10 top-five finishes. He edged out Gillmore by 17 points at the end of the season for add another championship to ones he earned in 2012, 2013, 2014, 2019, 2020 and 2021.
5 - McCowan repeats as USRA Modified champ: Some wins are more exciting than others and Dillon McCowan enjoyed one of his most thrilling feature victories on June 11 in the Cedar Creek Beef Jerky USRA Modified division. McCowan drove from a 14th-starting position all the way to the front to capture the $1,000 triumph.
The 18-year-old took lead on lap 23 out of turn 4. McCowan, of Urbana, beat Nick Bidinger by a car length for his fifth feature victory of the season. Afterward, he spoke of how special it was to win in front of his grandpa, A.D. McCowan.
"I want to say a special shout-out to my grandpa. He's not been here in a while and this is one of the more special ones because he got to be here and we came from the back," McCowan said.
McCowan's feature win was one of seven in the Big Adventure RV Weekly Racing Series as he successfully repeated his track championship.
6 - Johnson and Randall capture Hockett-Memorial wins: An old pro and a youngster celebrated feature victories in mid-September at the 12th annual Jesse Hockett-Daniel McMillin Memorial. The veteran was Wayne Johnson, a two-time Lucas Oil ASCS Sprint champion who picked up his second Hockett-McMillin triumph in the winged portion of the open-wheel major.
Earlier, 18-year-old Chase Randall drove to victory in the POWRi War Sprint feature.
The victories came in front of a big crowd on the finale of the three-night event. The Hockett-McMillin Memorial recognizes the legacy of Jesse Hockett, from Warsaw, Missouri, who was a star in both the winged and non-wing sprint divisions when he lost his life in a shop accident in 2010. His cousin and crew chief, Daniel McMillin, was killed in an automobile accident in 2006.
Eight-starting Johnson, of Oklahoma City, took the lead on lap 25 and held it the rest of the way in the 40-lap ASCS feature to capture his second Hockett-McMillin Memorial. Johnson outdistanced runner-up Blake Hahn to earn the $10,000 prize.
Randall took command with eight laps remaining and held on to earn the 30-lap POWRi WAR Sprint feature victory. The Waco, Texas driver earned $4,077 as he beat Mario Clouser by .602 seconds.
7 - Ramirez continues Show-Me Shootout domination: When the United States Modified Touring Series rolls into Wheatland, it's always a show and lately Dereck Ramirez has been the man to beat. Ramirez did it again on Aug. 6 at the USMTS Slick Mist Show-Me Shootout Presented by Foley Equipment, capturing his third straight USMTS win at the speedway.
Ramirez, the defending United States Modified Touring Series champion from Woodward, Oklahoma, led all 42 laps to take home $10,000. He held off Darron Fuqua by 1.1 seconds.
"I did all I could. I manhandled that thing. This is not my kind of race track," Ramirez said after his ride on the high side throughout was enough to win against at Lucas Oil Speedway. His three USMTS wins are the most by any series driver at the track.
8 - Old pro prevails in Thursday Night Thunder: The man who is the answer to one of Lucas Oil Speedway's great trivia questions celebrated again in victory lane in the big Thursday Night Thunder program to kick off the 4th of July holiday weekend.
Ozarks-area racing veteran Justin Wells, who won the first Late Model feature at Lucas Oil Speedway in 2006, made a 13th-to-first charge to take the Hermitage Lumber Late Model win. Wells, of Aurora, earned $1,000 courtesy of Rains Ice.
Wells - who won a Midwest Late Model Racing Association feature as the speedway opened 16 years earlier - became the first Late Model winner other than midseason co-champions Larry Ferris and Cole Henson in 2022. He beat Ferris by about six car lengths.
9 - Bryan White wins USRA Stock Cars title in family battle: Rempfer Memorial Season Championship Night saw three of the four championship chases decided by less than 25 points, with the closest battle in the O'Reilly Auto Parts USRA Stock Cars. Bryan White's third-place feature finish enough to edge out his dad, Rob White, for the championship.
Bryan White, who began the night 12 points ahead of Rob, finished third with Rob in second. The unofficial final margin between the two was eight points. Mason Beck, who began the night two points behind Bryan White, ran 15th to fall back to third in the points.
"I'd like to thank everybody on my car, my family over here and everybody who helps me every week," Bryan White said. "It's just a dream, really, to even win a race over here let alone a championship."
Other Big Adventure RV Weekly Racing Series track champions crowned were Dillon McCowan (Cedar Creek Beef Jerky USRA Modifieds), Kris Jackson (Ozark Golf Cars USRA B-Mods) and Larry Ferris (Hermitage Lumber Late Models).
10 - Ferris runs away with weekly Late Model crown: The Hermitage Lumber Late Model division saw Larry Ferris of Nevada turn the points chase into a runaway, with an Aug. 21 feature victory clinching the long-time driver's first Lucas Oil Speedway championship.
Ferris picked up his fourth feature victory of the season as he wound up 4.7 seconds in front of runner-up Dalton Imhoff and earned $1,000 for the triumph. He started on the pole and roared away from the start with JC Morton giving chase in the early going. Morton pulled alongside Ferris going into turn one on lap six, with third-place Dillon McCowan about 10 car lengths behind.
Over the next four laps, Ferris began to settle in and was able to extend his lead to 1.7 seconds and kept pulling away from there.
11 - KDBA returns to Lake Lucas with Allen setting a record: The Kentucky Drag Boat Association returned to Lake Lucas for four events in 2022, including a 120-boat field for the Labor Day Weekend Diamond Drag Boat Nationals.
One of the big stories of the KDBA season was Rick Allen in the Top Alcohol Hydro division. Allen set a track record in the TAH class during the June KDBA Spring Opener on Lake Lucas with an speed of 208.52 miles per hour and a 4.31 ET.
Allen went on to capture the division championship during the Diamond Drag Boat Nationals, taking the win in the finals over Mike DeClark.
12 - Tony Jackson Jr. back in form: Back in top form near home and in a new car, Tony Jackson Jr. of Lebanon took the lead on lap 12 and rolled from there to capture the 8th annual Lucas Oil MLRA Ron Jenkins Memorial on Labor Day Weekend.
Jackson earned a total $9,250, including $1,500 in bonus money from Mary Jenkins for the win plus $750 for setting fast qualifying time. The main event saw Jackson take command just past the quarter mark of the 40-lapper. The 2021 MLRA champ went on to capture his third series feature win in the last month in a new Capital Race Car.
For information regarding gift certificates which can be used in various areas of the speedway in 2023, contact Lucas Oil Speedway Admissions Director Nichole McMillan at (417) 282-5984 or by email at
nichole@LucasOilSpeedway.com.
CONTACT:
Danny Lorton
Lucas Oil Speedway General Manager
Office: (417) 282-5984
DLorton@lucasoilspeedway.com
?
Complete Lucas Oil Speedway event information, archived race recaps, previews and driver features, along with ticket information and schedules can be found by visiting LucasOilSpeedway.com.
Lucas Oil Speedway is located at Highways 83 and 54 in Wheatland, Missouri. A campground with shower and bathroom facilities is also available. With its entrance located just outside the pit gate this sprawling scenic camping facility will continue to enhance the racing experience at the Diamond of Dirt Tracks.
Click LucasOilSpeedway.com for more information and detailed directions to the speedway or call the Track Hotline at (417) 282-5984. The Lucas Oil Speedway EZ Texting number is (417) 804-4141.
In addition, fans can get social with Lucas Oil Speedway by following @LucasSpeedway on Twitter, clicking "Like" at www.facebook.com/LucasOilSpeedway and on www.youtube.com/LucasOilSpeedway
About Lucas Oil Speedway
Lucas Oil Speedway is considered by fans, drivers and industry insiders to be one of the top five racing facilities in the nation. Located in Wheatland, Missouri, approximately an hour from Springfield, Missouri, and just an hour and a half from the Kansas City metro area, the "Diamond of Dirt Tracks" lives up to its title.
Twenty-One VIP Luxury Suites, HD Jumbo-Tron Screen, Stadium Style Musco Sports Lighting, a Bose Sound System, Go-Kart Slick Track, The Diamond Bar, Track Treasures Gift Shop, the best track food in the country and paved pits are a few of the spectacular amenities setting the Diamond of Dirt apart. This year marks the 12th season for the Liquid Quarter Mile Drag Racing Lake, "Lake Lucas." New for 2017 was all-purpose built Off Road facility featuring a host of regional events.
Lucas Oil Speedway's dirt oval track plays host to some of the largest and most-popular events in the Midwest with national and regional touring series appearing frequently including: The Lucas Oil Late Model Dirt Series, POWRi Midget National Series, Lucas Oil Pro Pulling League, United States Modified Touring Series, ASCS Sprint Cars and the Lucas Oil MLRA.
In addition to the special events, the Lucas Oil Speedway Weekly Racing Series features the Late Models, USRA Modifieds, USRA Stock Cars and USRA B-Mods.
2022 Official Lucas Oil Speedway Marketing Partners
Arizona Sport Shirts
"The Official Merchandise Provider" of Lucas Oil Speedway
Bill Roberts Chevrolet-Buick
"The Official Truck" of Lucas Oil Speedway
Dixie Chopper
"The Official Mowers of Lucas Oil Speedway"
General Tire
"The Official Tire" of Lucas Oil Speedway
Lucas Oil Products
"The Official Oil" of Lucas Oil Speedway
MAVTV
"The Official Television Network" of Lucas Oil Speedway
Optima Batteries
"The Official Battery" of Lucas Oil Speedway
Ozarks Coca-Cola/Dr. Pepper
"The Official Soft Drink" of Lucas Oil Speedway
RacingJunk.com
"The Official Classifieds" of Lucas Oil Speedway
Rugged Radios
"The Official 2-Way Communications Provider" of Lucas Oil Speedway
Sunoco Race Fuels
"The Official Fuel" of Lucas Oil Speedway
Super Clean
"The Official Sponsor" of Lucas Oil Speedway
2022 Lucas Oil Speedway Supporters Include:
AM Pyrotechnics, Arizona Sport Shirts, Ash Grove Aggregates, Berry Tractor and Equipment Co., Big Adventure RV, Bill Roberts Chevrolet-Buick, Bolivar Auto Sales & Detailing, Bolivar Farmers Exchange-MFA, Boone's BBQ Barn, Boubin Tire/American Racer, Branstetter & Lightfoot LLC, Bridal Cave, BWI Sanitation, Camden on the Lake Resort, Candlelight Creations-Dick's Wild Root Horseradish, Casey's, Cedar Creek Beef Jerky, Citizens Memorial Healthcare, City Magnet, Clearlight Inn, Comfort Inn-Bolivar, DirtonDirt.com, Dixie Chopper, eBay Motors, Eibach Springs, Evans Pipe & Steel Co., Farmers Insurance Agent Kristy Reynolds, Fast Shafts by Axle Exchange, Foley Equipment-Cat Rental Store, Frog Signs, Golden Valley Memorial Healthcare, Hermitage Lumber, HICKAMO Country Store, Highway 54 RV Park, Hobbytime Motorsports, Hoosier Race Tires, Impact Signs Awnings Wraps, In the Garden of Eden, Kettle Treats, Keyser Manufacturing, Kluhsman Racing Components, Kona Ice, Lucas Cattle Company, Midwest Sheet Metal, Miller Welding, Missouri Department of Tourism, Missouri Division of Tourism, MyRacePass, Nutrien Ag Solutions, OakStar Bank, O'Bannon Bank, O'Reilly Auto Parts, Ozark Golf Cars, Ozarks Coca-Cola/Dr. Pepper, Ozarks Community Health Center, PEM, Pitts Homes, Pitts Realty, Pitts Cattle, ProThings Apparel, RACEceiver, Racinboys.com, RacinDirt.com, RacingJunk.com, Rains Ice Company, Real Racing Wheels, Rod End Supply, Ron Jenkins Accounting & Tax Service, Rugged Radios, Ryan E. Murphy Law Firm LLC, SBU Athletics, Safety Kleen, Scott Furniture, Simpson Racing Products, Southwest Electric Cooperative, Stillwater Resort, Summit Racing Equipment, Sunoco Race Fuels, US Army Corps of Engineers-Pomme de Terre, Vietti Marketing Group, Wheatland Motel, White's Marine Center, Wild Animal Safari, Woods Supermarkets, Wrisco Industries.
---
Article Credit: By Lyndal Scranton, Lucas Oil Speedway
Back to News