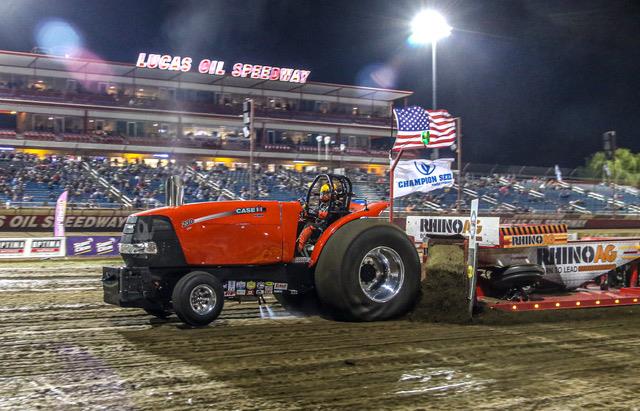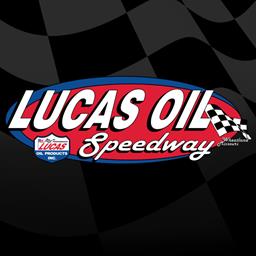 9/20/2022
Lucas Oil Speedway
---
Lucas Oil Pro Pulling League returns to Lucas Oil Speedway on Friday, Saturday
WHEATLAND, MO. (Sept. 20, 2022) - The powerhouse trucks and tractors of the Lucas Oil Pro Pulling League return to Lucas Oil Speedway this weekend for the Lucas Oil Pro Pulling League Nationals.
Drivers on the circuit will be looking to nail down season championships in the various divisions in the annual event which always puts on a terrific show of horsepower in front of the Lucas Oil Speedway main grandstand.
On Friday night, classes scheduled to be in action tentatively include the ARP Lightweight Super Stock Tractors, Summit Racing Mini Rod Tractors, ARP Super Stock Diesel Trucks and Limited Pro Stock Tractors.
Spectator gates open at 4 p.m. with pulling getting underway at 7.
Classes in action on Saturday night include the Big River Steel Super Modified Tractors, Unlimited Super Stock Tractors, Super Farm Tractors, Optima Batteries Super Modified 2WD Trucks, Pro Modified 4WD Trucks, 10,000 Pro Stock Tractors and Mac Trailer Hot Rod Semis.
Gates open at 4 p.m. with pulling beginning at 6 p.m. on the final night.
Spectator admission Friday:
Adults (16 and up) $20
Seniors (62 and up)/Military $17
Youth (6-15) $5
Kids (5 and under) FREE
Family Pass $45 (Click here for more information)
Spectator admission Saturday:
Adults (16 and up) $25
Seniors (62 and up)/Military $22
Youth (6-15) $10
Kids (5 and under) FREE
Family Pass $60 (Click here for more information)
Fans can visit propulling.com for archived stories, schedules and point standings for the Lucas Oil Pro Pulling League.
Here's a look at the different divisions and some background on each:
Lightweight Super Stocks: These tractors are known for their amazing wheel speed and wild rides. Weighing in at 6,300 pounds, the Light Super Stocks are the lightest tractors on the Champions Tour. Limited to 504 cubic inches, the majority of these tractors have converted to alcohol to defeat their competitors.
Super Stock Diesel Trucks: It's the fastest-growing class in the Pro Pulling League. Fans shout and cheer their brand loyalty as these 8,000 pound pick-ups come out to shows in large quantities. Running an OEM body makes this class easier to relate to their farm and work vehicles sitting in the parking lot.
Limited Pro Stock Tractors: The Limited Pro Stock class is a tip of the hat to the younger days of Pro Stock Tractor pulling. Limited to a 4.1 turbo charger, 640 cubic inches, and 9,500 pounds, this class has become a hot button topic with the fans of the Pro Pulling League. The heartland of the U.S. can relate to this once start-up class, now to the bright lights of the biggest PPL events.
Mini Rod Tractors: The Mini-Rods may be small in size but the fun factor to watch is off the charts. Weighing just 2,050 pounds with 2,500 horsepower under the drivers fingertips makes for an exciting path down the 300-foot track.
Super Modified Tractors: This class is an engineer's dream, as the goal is to get four Hemi's, three Turbines or Allison Aircraft Engines to sing in harmony, in a pursuit of putting the power to the track. Tipping the scales at 7,800 pounds, the competitors in the Super Modified Tractor class must use every ounce to they have to their advantage. Fans from across the country, pack the stands for a chance to watch these machines throw dirt and with the power of over 10,000 horses.
Unlimited Super Stock Tractors: It's 8,000 pounds of high-flying fun with the Unlimited Super Stocks. Limited to 650 cubic inches, these machines may boast as many as four turbo chargers staged together. With methanol pumping through these engines, the Unlimited Super Stocks have become known for their ground pounding power and amazing wheel speed. Keeping these bad boys between the lines and settled down is a daunting task.
Super Farm Tractors: Competing at 9,300 pounds, the Super Farm Tractor class relies on a single turbo charger and 640 cubic inches to power down the pulling surface. Known throughout the country as one of the largest classes in pulling, the Super Farm Tractors class is most typically the closest class from the first place finisher to the 10th position.
Super Modified 2WD Trucks: The Super Modified Two-Wheel Drive Truck division is another filled with colorful American-made truck body styles, equally dazzling paint schemes and some of the more popular personalities behind the wheel. Using supercharged and alcohol-injected drag racing-type engines, these trucks awe the crowd with their power and on-track antics, with part of their weight transfer characteristics resulting in towering wheel-stands at various points along the track. Their machines can weigh no more than 6,200 pounds.
Pro Modified 4WD Trucks: Referred by many as using "mountain motor" technology, these carbureted behemoths draped in the most popular American-made pickup truck body styles have no engine size limit – and some are topping out at over 800 cubic-inches on alcohol fuel. One of the larger classes at any event, the Pro Mod Four-Wheel Drive Truck must weigh a maximum of 6,350 pounds.
10,000 Pro Stock Tractors: Pro Stock Tractors are truly for the brand-loyal, die-hard tractor pulling enthusiast. Here, the John Deeres have reigned supreme for years, but the challenges brought on by other popular makes and models such as International have not relegated them to the winner circle automatically. These machines top out at a maximum of 10,000 pounds and may bolt on a single turbocharger to an engine that can be built up to 680 cubic-inches in displacement. Using a combination of diesel fuel and water injection, these monsters contain some of the more legendary teams in the sport.
Hot Rod Semis: Though these rigs may look similar to the one that towed them in, they are not quite the average truck one may pass on the highway. At 20,000 pounds, this class is the heaviest of the Champions Tour competitors. Pulling with DOT approved tires, the Hot Rod Semis have become a fan favorite across the country. With many competitors running multiple turbochargers, this class has become known for its power and thrilling performances by each competitor.
To purchase tickets for any event on Lucas Oil Speedway's schedule, or to inquire about camping information, contact Admissions Director Nichole McMillan at (417) 295-6043 or via email at nichole@lucasoilspeedway.com.
CONTACT:
Danny Lorton
Lucas Oil Speedway General Manager
Office: (417) 282-5984
DLorton@lucasoilspeedway.com
Complete Lucas Oil Speedway event information, archived race recaps, previews and driver features, along with ticket information and schedules can be found by visiting LucasOilSpeedway.com.
Lucas Oil Speedway is located at Highways 83 and 54 in Wheatland, Missouri. A campground with shower and bathroom facilities is also available. With its entrance located just outside the pit gate this sprawling scenic camping facility will continue to enhance the racing experience at the Diamond of Dirt Tracks.
Click LucasOilSpeedway.com for more information and detailed directions to the speedway or call the Track Hotline at (417) 282-5984. The Lucas Oil Speedway EZ Texting number is (417) 804-4141.
In addition, fans can get social with Lucas Oil Speedway by following @LucasSpeedway on Twitter, clicking "Like" at www.facebook.com/LucasOilSpeedway and on www.youtube.com/LucasOilSpeedway
About Lucas Oil Speedway
Lucas Oil Speedway is considered by fans, drivers and industry insiders to be one of the top five racing facilities in the nation. Located in Wheatland, Missouri, approximately an hour from Springfield, Missouri, and just an hour and a half from the Kansas City metro area, the "Diamond of Dirt Tracks" lives up to its title.
Twenty-One VIP Luxury Suites, HD Jumbo-Tron Screen, Stadium Style Musco Sports Lighting, a Bose Sound System, Go-Kart Slick Track, The Diamond Bar, Track Treasures Gift Shop, the best track food in the country and paved pits are a few of the spectacular amenities setting the Diamond of Dirt apart. This year marks the 12th season for the Liquid Quarter Mile Drag Racing Lake, "Lake Lucas." New for 2017 was all-purpose built Off Road facility featuring a host of regional events.
Lucas Oil Speedway's dirt oval track plays host to some of the largest and most-popular events in the Midwest with national and regional touring series appearing frequently including: The Lucas Oil Late Model Dirt Series, POWRi Midget National Series, Lucas Oil Pro Pulling League, United States Modified Touring Series, ASCS Sprint Cars and the Lucas Oil MLRA.
In addition to the special events, the Lucas Oil Speedway Weekly Racing Series features the Late Models, USRA Modifieds, USRA Stock Cars and USRA B-Mods.
2022 Official Lucas Oil Speedway Marketing Partners
Arizona Sport Shirts
"The Official Merchandise Provider" of Lucas Oil Speedway
Bill Roberts Chevrolet-Buick
"The Official Truck" of Lucas Oil Speedway
Dixie Chopper
"The Official Mowers of Lucas Oil Speedway"
General Tire
"The Official Tire" of Lucas Oil Speedway
Lucas Oil Products
"The Official Oil" of Lucas Oil Speedway
MAVTV
"The Official Television Network" of Lucas Oil Speedway
Optima Batteries
"The Official Battery" of Lucas Oil Speedway
Ozarks Coca-Cola/Dr. Pepper
"The Official Soft Drink" of Lucas Oil Speedway
RacingJunk.com
"The Official Classifieds" of Lucas Oil Speedway
Rugged Radios
"The Official 2-Way Communications Provider" of Lucas Oil Speedway
Sunoco Race Fuels
"The Official Fuel" of Lucas Oil Speedway
Super Clean
"The Official Sponsor" of Lucas Oil Speedway
2022 Lucas Oil Speedway Supporters Include:
AM Pyrotechnics, Arizona Sport Shirts, Ash Grove Aggregates, Berry Tractor and Equipment Co., Big Adventure RV, Bill Roberts Chevrolet-Buick, Bolivar Auto Sales & Detailing, Bolivar Farmers Exchange-MFA, Boone's BBQ Barn, Boubin Tire/American Racer, Branstetter & Lightfoot LLC, Bridal Cave, BWI Sanitation, Camden on the Lake Resort, Candlelight Creations-Dick's Wild Root Horseradish, Casey's, Cedar Creek Beef Jerky, Citizens Memorial Healthcare, City Magnet, Clearlight Inn, Comfort Inn-Bolivar, DirtonDirt.com, Dixie Chopper, eBay Motors, Eibach Springs, Evans Pipe & Steel Co., Farmers Insurance Agent Kristy Reynolds, Fast Shafts by Axle Exchange, Foley Equipment-Cat Rental Store, Frog Signs, Golden Valley Memorial Healthcare, Hermitage Lumber, HICKAMO Country Store, Highway 54 RV Park, Hobbytime Motorsports, Hoosier Race Tires, Impact Signs Awnings Wraps, In the Garden of Eden, Kettle Treats, Keyser Manufacturing, Kluhsman Racing Components, Kona Ice, Lucas Cattle Company, Margaritaville Lake Resort, Midwest Sheet Metal, Miller Welding, Missouri Department of Tourism, Missouri Division of Tourism, MyRacePass, Nutrien Ag Solutions, OakStar Bank, O'Bannon Bank, O'Reilly Auto Parts, Ozark Golf Cars, Ozarks Coca-Cola/Dr. Pepper, Ozarks Community Health Center, PEM, Pitts Homes, Pitts Realty, Pitts Cattle, ProThings Apparel, RACEceiver, Racinboys.com, RacinDirt.com, RacingJunk.com, Rains Ice Company, Real Racing Wheels, Rod End Supply, Ron Jenkins Accounting & Tax Service, Rugged Radios, Ryan E. Murphy Law Firm LLC, SBU Athletics, Safety Kleen, Scott Furniture, Simpson Racing Products, Southwest Electric Cooperative, Stillwater Resort, Sunoco Race Fuels, Sunflower Resort, TA/PETRO, US Army Corps of Engineers-Pomme de Terre, Vietti Marketing Group, Wheatland Motel, White's Marine Center, Wild Animal Safari, Woods Supermarkets, Wrisco Industries.
---
Article Credit: By Lyndal Scranton, Lucas Oil Speedway
Back to News