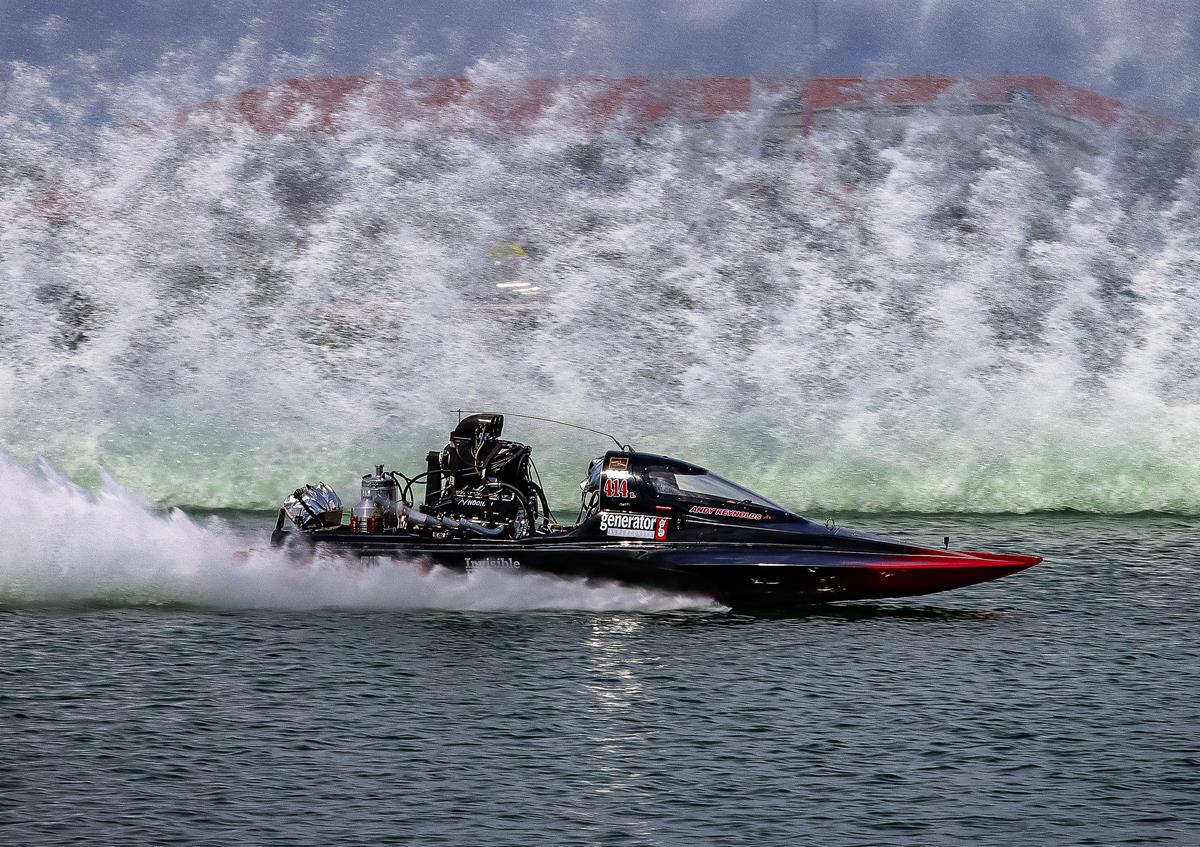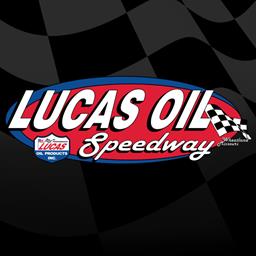 7/28/2022
Lucas Oil Speedway
---
Drag Boat veteran Reynolds looks for Top Alcohol Hydro turnaround at KDBA Show-Me Shootout
WHEATLAND, MO. (July 28, 2022) - As one of the veterans of professional drag boat racing, Andy Reynolds has captured multiple championships on the water in his Top Alcohol Hydro boat "Running With Scissors."
But so far, the 2022 season has not been the veteran South Carolina driver's best. Mechanical issues with a new motor have plagued Reynolds in the first two Kentucky Drag Boat Association-sanctioned events held on Lake Lucas.
"It's been a rough year this year," Reynolds said. "We had high hopes after we built a new motor over the winter. We went to the first race there in June and had some electrical issues. The second race, we got off to a slow start again in qualifying and got beat."
Reynolds has since returned to his old, dependable motor package and looks for better results this Saturday and Sunday when the KDBA returns to Lucas Oil Speedway for the KDBA Show-Me Shootout.
"We do it for the love of the sport," Reynolds said of drag boat racing, calling Lucas Oil Speedway the most fan-friendly venue he's encountered. "We love interacting with the fans there. We hope the fans will stop by the pits and say hi. We'll put them in the cockpit, especially the kids.
"You're never going to make money at it, but hopefully we can win a little money here and there and pay for some parts."
Reynolds, 51, started boat racing as a teen after his older brother retired from the sport and started building motors. Andy started competing as a driver for the Stokes Family (Gary, Eric and Sylvia) in an open cockpit boat named "Cole Fever," winning Rookie of the year and points championships in 1992 and 1993 with a top speed of 133 miles per hour.
Then Reynolds started competing in a boat co-owned with his brother named "Parental Discretion Advised" in the Pro Eliminator category. After a few years, there was the itch to go faster and in 1997 he made the move to the Pro Modified category with speeds nearing 180 mph.
Reynolds moved up to the professional category of Top Alcohol Hydro thanks to some generous friends and sponsors Tom and Kathie Cowman in 2000. That year the team set the NDBA ET and mile-per-hour records at 5.61 at 215.66 mph in a quarter-mile course. He also won the prestigious World Finals of Drag Boat Racing at Firebird Lake in Chandler, Arizona.
Over the last decade, Reynolds said the biggest change in the TAH division has been the cut back in distance from a quarter-mile to 1,000 feet.
"We used to run 125 percent overdrive on our blower. Now we're at 92 percent overdrive limit," he said. "I ran 225 back in 2008 and 2009 at a quarter mile. We're creeping back up and the speeds are coming back. We're not running 206, 208, 2010 on a regular basis."
While Reynolds briefly dabbled in dirt-track car racing earlier in his career, he said the sensation of going fast on water is a sensation that's hard to describe.
"I tell people, if you've ever been on a roller coaster and it drops off the steepest point, when it rolls your stomach back, that's kind of how it feels when it takes off," Reynolds said. "I remember going from Pro Mod to TAH. Your mind don't catch up to it until about three-quarter track. You've got a lot going on in that four seconds."
The big challenge this weekend is finding a way to beat Texan Rick Allen, who's won the first two KDBA events this season on Lake Lucas with record runs at 1,000 feet with an ET of 4.25 seconds and 210.47 mph.
"Rick's the man right now," Reynolds said of his long-time rival.
Reynolds' crew includes crew chief Joe Reynolds, engineer Jeremy Boughman, assistant tuner Andy Hall, motor and underwater specialist Ralph Fuller, crew detail and parachutes Perry Johnston, marketing Dave Bobert, race shop support Forrest Robinson and team support members Tandy Fuller and Kim Bobert.
Sponsors include Generator Supercenter, Invisible Fence and Sold Realty Inc.
"And I would like to thank this weekend's sponsor, Ron and Chris with H&K Automotive out of North Carolina for their diesel fuel sponsorship to help cover some of the travel," Reynolds said.
Band on drag boat midway Friday night: The Kennie Dee Band will play at the drag boat midway from 8-11 p.m. by the drag boat midway bar tent. The band plays classic rock and country music. No outside coolers will be allowed on the midway during the band performance.
3-for-1 ticket special for drag boats, dirt action: The KDBA Show-Me Shootout, set for Saturday and Sunday, is part of a huge speed weekend at Lucas Oil Speedway that includes Fan Appreciation Night Presented by KIX-105.7 Townsquare Media on the dirt oval Saturday evening.
A big 3-for-1 ticket special awaits. Those purchasing a Saturday drag boat ticket will be admitted free to that night's Big Adventure RV Weekly Racing Series program, plus Sunday's KDBA finale.
The Show-Me Vintage Racers will join the normal four divisions on the dirt track as a special guest class. The SMVR cars will be on display on the Dirt Track midway for fans to view up close.
Food and drink specials on Saturday night will include $1 nachos and cheese, $2 hot dogs and $2 soft drinks or waters.
Dirt-track drivers can pick up free tickets: Upon check-in at the pit office, drivers in attendance this Saturday can receive 50 free general admission tickets for the Aug. 27 Rempfer Memorial Season Championship Night. Drivers with the most tickets used on Aug. 27 will win one free season pit pass for 2023.
Kids' Power Wheel Races return: Kids' Power Wheel races are scheduled during intermission Saturday night on the front straightaway. Youngsters ages 3-9 can enter their own battery-powered Power Wheel cars by signing up for the Frogs Jr. Fan Club on the south end of the Midway prior to the races.
One Kids Power Wheel class will be the 6-12 volt cars and another will be for the 24-36 volt class. No power or speed enhancement modifications will be allowed.
Saturday Drag Boat Grandstand Admission:
(3-for-1 special - FREE admission to Saturday night dirt track and Sunday drag boats with Saturday drag boat ticket)
*Gates open at 8 a.m. with racing at 9 a.m.
Advance Discount Tickets online only (16 and up) - $27
Adults GA/Pit Pass Combo (16 and up) - $30
Seniors (62 and up)/Military GA/Pit Pass Combo (62 and up) - $27
Youth GA/Pit Pass Combo (age 6 to 15) - $10
Kids GA/Pit Pass Combo (age 5 and under) FREE
Family Pass GA/Pit Pass Combo - $70 (Includes admission for two Adults and Up to three Kids Ages 6-15)
*All tickets include access to the Drag Boat pit area.
*All Saturday and 2-Day tickets include entry to the Dirt Track Event on Saturday.
Saturday dirt track admission:
Advance Discount Tickets online only (16 and up) - $12
Adults (16 and up) - $15
Seniors (62 and up)/Military - $12
Youth (6-15) - $5
Kids (5 and under) FREE
Family Pass - $35 (Click Here for more information)
Pit Pass - $30
Sunday-only Drag Boat grandstand admission
Ages 6 and up GA/Pit Pass combo - $10
Kids GA-Pit Pass Combo (ages 5 and under) - FREE
*All tickets include access to the drag boat pit area
To purchase tickets for any event on Lucas Oil Speedway's schedule, or to inquire about camping information, contact Admissions Director Nichole McMillan at (417) 295-6043 or via email at nichole@lucasoilspeedway.com.
CONTACT:
Danny Lorton
Lucas Oil Speedway General Manager
Office: (417) 282-5984
DLorton@lucasoilspeedway.com
?
Complete Lucas Oil Speedway event information, archived race recaps, previews and driver features, along with ticket information and schedules can be found by visiting LucasOilSpeedway.com.
Lucas Oil Speedway is located at Highways 83 and 54 in Wheatland, Missouri. A campground with shower and bathroom facilities is also available. With its entrance located just outside the pit gate this sprawling scenic camping facility will continue to enhance the racing experience at the Diamond of Dirt Tracks.
Click LucasOilSpeedway.com for more information and detailed directions to the speedway or call the Track Hotline at (417) 282-5984. The Lucas Oil Speedway EZ Texting number is (417) 804-4141.
In addition, fans can get social with Lucas Oil Speedway by following @LucasSpeedway on Twitter, clicking "Like" at www.facebook.com/LucasOilSpeedway and on www.youtube.com/LucasOilSpeedway
About Lucas Oil Speedway
Lucas Oil Speedway is considered by fans, drivers and industry insiders to be one of the top five racing facilities in the nation. Located in Wheatland, Missouri, approximately an hour from Springfield, Missouri, and just an hour and a half from the Kansas City metro area, the "Diamond of Dirt Tracks" lives up to its title.
Twenty-One VIP Luxury Suites, HD Jumbo-Tron Screen, Stadium Style Musco Sports Lighting, a Bose Sound System, Go-Kart Slick Track, The Diamond Bar, Track Treasures Gift Shop, the best track food in the country and paved pits are a few of the spectacular amenities setting the Diamond of Dirt apart. This year marks the 12th season for the Liquid Quarter Mile Drag Racing Lake, "Lake Lucas." New for 2017 was all-purpose built Off Road facility featuring a host of regional events.
Lucas Oil Speedway's dirt oval track plays host to some of the largest and most-popular events in the Midwest with national and regional touring series appearing frequently including: The Lucas Oil Late Model Dirt Series, POWRi Midget National Series, Lucas Oil Pro Pulling League, United States Modified Touring Series, ASCS Sprint Cars and the Lucas Oil MLRA.
In addition to the special events, the Lucas Oil Speedway Weekly Racing Series features the Late Models, USRA Modifieds, USRA Stock Cars and USRA B-Mods.
2022 Official Lucas Oil Speedway Marketing Partners
Arizona Sport Shirts
"The Official Merchandise Provider" of Lucas Oil Speedway
Bill Roberts Chevrolet-Buick
"The Official Truck" of Lucas Oil Speedway
Dixie Chopper
"The Official Mowers of Lucas Oil Speedway"
General Tire
"The Official Tire" of Lucas Oil Speedway
Lucas Oil Products
"The Official Oil" of Lucas Oil Speedway
MAVTV
"The Official Television Network" of Lucas Oil Speedway
Optima Batteries
"The Official Battery" of Lucas Oil Speedway
Ozarks Coca-Cola/Dr. Pepper
"The Official Soft Drink" of Lucas Oil Speedway
RacingJunk.com
"The Official Classifieds" of Lucas Oil Speedway
Rugged Radios
"The Official 2-Way Communications Provider" of Lucas Oil Speedway
Sunoco Race Fuels
"The Official Fuel" of Lucas Oil Speedway
Super Clean
"The Official Sponsor" of Lucas Oil Speedway
2022 Lucas Oil Speedway Supporters Include:
AM Pyrotechnics, Arizona Sport Shirts, Ash Grove Aggregates, Berry Tractor and Equipment Co., Big Adventure RV, Bill Roberts Chevrolet-Buick, Bolivar Auto Sales & Detailing, Bolivar Farmers Exchange-MFA, Boone's BBQ Barn, Boubin Tire/American Racer, Branstetter & Lightfoot LLC, Bridal Cave, BWI Sanitation, Camden on the Lake Resort, Candlelight Creations-Dick's Wild Root Horseradish, Casey's, Cedar Creek Beef Jerky, Citizens Memorial Healthcare, City Magnet, Clearlight Inn, Comfort Inn-Bolivar,DirtonDirt.com, Dixie Chopper, eBay Motors, Eibach Springs, Evans Pipe & Steel Co., Farmers Insurance Agent Kristy Reynolds, Fast Shafts by Axle Exchange, Foley Equipment-Cat Rental Store, Frog Signs, Golden Valley Memorial Healthcare, Hermitage Lumber, HICKAMO Country Store, Highway 54 RV Park, Hobbytime Motorsports, Hoosier Race Tires, Impact Signs Awnings Wraps, In the Garden of Eden, Kettle Treats, Keyser Manufacturing, Kluhsman Racing Components, Kona Ice, Lucas Cattle Company, Margaritaville Lake Resort, Midwest Sheet Metal, Miller Welding, Missouri Department of Tourism, Missouri Division of Tourism, MyRacePass, Nutrien Ag Solutions, OakStar Bank, O'Bannon Bank, O'Reilly Auto Parts, Ozark Golf Cars, Ozarks Coca-Cola/Dr. Pepper, Ozarks Community Health Center, PEM, Pitts Homes, Pitts Realty, Pitts Cattle, ProThings Apparel, RACEceiver, Racinboys.com, RacinDirt.com, RacingJunk.com, Rains Ice Company, Real Racing Wheels, Rod End Supply, Ron Jenkins Accounting & Tax Service, Rugged Radios, Ryan E. Murphy Law Firm LLC, SBU Athletics, Safety Kleen, Scott Furniture, Simpson Racing Products, Southwest Electric Cooperative, Stillwater Resort, Sunoco Race Fuels, Sunflower Resort, TA/PETRO, US Army Corps of Engineers-Pomme de Terre, Vietti Marketing Group, Wheatland Motel, White's Marine Center, Wild Animal Safari, Woods Supermarkets, Wrisco Industries.
---
Article Credit: By Lyndal Scranton, Lucas Oil Speedway
Back to News